'It's Coming': CDC Director Warns Coronavirus To Become Widespread Throughout United States, 'Probably Beyond 2020'
The extremely virulent coronavirus which is sweeping through China's Hubei province like wildfire will eventually gain a foothold in the United States - becoming a 'community virus' this year or next, according to CDC Director Dr. Robert Redfield.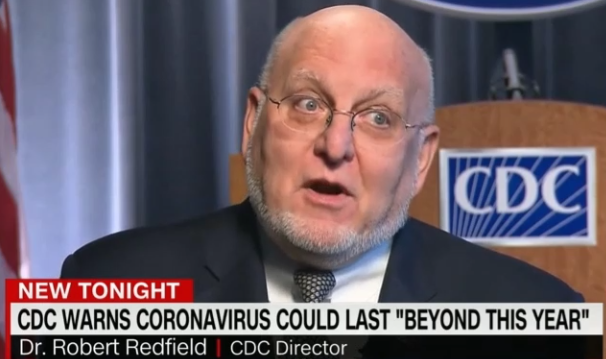 "We don't know a lot about this virus," Redfield told CNN's Dr. Sanjay Gupta. "This virus is probably with us beyond this season, beyond this year, and I think eventually the virus will find a foothold and we will get community-based transmission."
"Right now we're in an aggressive containment mode," said Redfield.
As of Thursday, 15 cases have been confirmed in seven states; eight in California, two in Illinois and one in Arizona, Washington, Massachusetts, Wisconsin and Texas, according to CNN.
Community virus
Redfield says that while more research is needed, the CDC is focused on containment strategies to isolate and slow the progression of the novel coronavirus, buying time to develop a vaccine and antiviral drugs.
"The containment phase is really to give us more time. This virus will become a community virus at some point in time, this year or next year," said Redfield. "We don't have any evidence that this coronavirus is really embedded in the community at this time, but with that said, we want to intensify our surveillance so that we're basing those conclusions based on data."
The containment strategy refers to efforts to prevent widespread transmission of the coronavirus in the United States, including having people with confirmed cases stay in isolation and placing restrictions on travel between affected areas in the world. Such containment measures were used widely during the SARS global outbreak of 2003, during which 8,098 people worldwide became sick and of those, 774 died, according to the CDC. -CNN
Controversial travel restrictions
While the World Health Organization has argued that travel restrictions on foreign nationals could backfire (on several industries?), the Trump administration has enacted travel restrictions which block foreign nationals who have visited China in the last 14 days from entering the United States. Anyone who has been to Hubei province within two weeks of their return will be subject to a mandatory 14-day quarantine.
WHO Director-General Tedros Ahanom Ghebreyesus opposed travel restrictions last week, saying "We reiterate our call to all countries not to impose restrictions that unnecessarily interfere with international travel and trade. Such restrictions can have the effect of increasing fear and stigma, with little public health benefit."
So - According to Tedros, travel restrictions might lead to panic and racism.
The CDC's Redfield couldn't disagree more.
"Frankly, some people criticized when we decided that we wanted to temporarily suspend travel into the United States from individuals who were not Americans...