Global Air Traffic Set For Worst Year On Record
Global Air Traffic Set For Worst Year On Record
Covid-19 has become a significant headache for the global air travel industry, according to a new report from Jefferies. In fact, it is about to become the biggest shock for airlines on record as global air traffic is expected to dive 8.9% this year as the global viral pandemic paralyzes transportation routes across the globe.
In its reported cited by Bloomberg, Jefferies said that the latest demand shock to hit the airline industry is the largest drop in data that goes back to 1978, and it even dwarfs the impact seen during the 2001 terrorist attacks and the 2008 financial crisis. "It's unprecedented," said Jefferies analyst Sheila Kahyaoglu.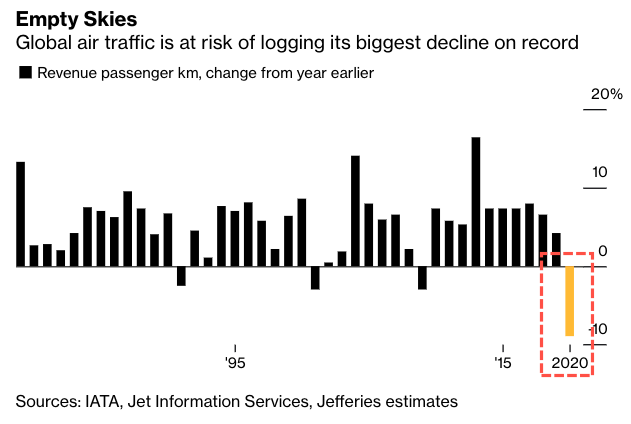 We noted last week that more than 200,000 flights across the world had been canceled as the virus crossed into pandemic status. At the same time, retail outlets at airports around the globe reported a significant drop in foot traffic, resulting in a collapse in sales at duty-free shops.
In a separate report by Moodie Davitt Report, a travel retail-intelligence service provider, they said this is the "the greatest crisis the travel retail sector has faced, worse than [severe acute respiratory syndrome], the two Gulf wars or various financial crises."
"That's largely driven by the fact that the Chinese traveler has become the epicenter of the sector over recent years and many retailers are worryingly reliant on them."
Plunging air traffic has also meant a plunge in jet fuel demand. Singapore jet fuel prices have fallen 30% since the start of 2020 and contributed to a 50% collapse in jet fuel crack spreads, now at 2009 lows. 
And to show you how the airline industry has gone bust. Airports across the world are deserted:
What to make of the virus and the economy? Here's O'Hare airport in Chicago tonight at 7pm rush hour ... pic.twitter.com/OzYNWoWLxa

— Evan Feigenbaum (@EvanFeigenbaum) March 3, 2020
Dubai AirPort empty #coronavirusus pic.twitter.com/lAcAteZMvg

— Ali (@Ali71349739) March 4, 2020
I've never seen London Heathrow airport so empty. #Heathrow pic.twitter.com/CqXIqAXE7Y

— Maria Ramos (@MariaRamosUK) March 6, 2020
Saturday afternoon, Melbourne airport. Pretty much empty. pic.twitter.com/TAssXbjMVj...

— Sally Neighbour (@neighbour_s) March 7, 2020