COVID-19 Outbreak Infects 66 At Maryland Nursing Home 
While the nursing home in Kirkland, Washington, was the epicenter of the COVID-19 outbreak three weeks ago, the fast-spreading virus has turned its crosshairs onto the Northeast and Mid-Atlantic regions. Virus cases and deaths are now erupting in New York, New Jersey, Massachusetts, Pennsylvania, and Maryland. 
The hardest-hit area is New York state, which has 53,399 confirmed cases and 827 deaths as of Saturday night (March 28). Reports are pouring in that hospital systems in the region are beyond capacity, and that is the point where the mortality rate could surge unless extra capacity is brought online to alleviate the lack of hospital beds and ICU-level treatment.
At the moment, New Jersey is the second hardest-hit area with 11,124 cases and 140 deaths, next is Massachusetts with 4,257 cases and 44 deaths, then Pennsylvania with 2,845 cases and 34 deaths, and last is Maryland with 995 cases and 10 deaths.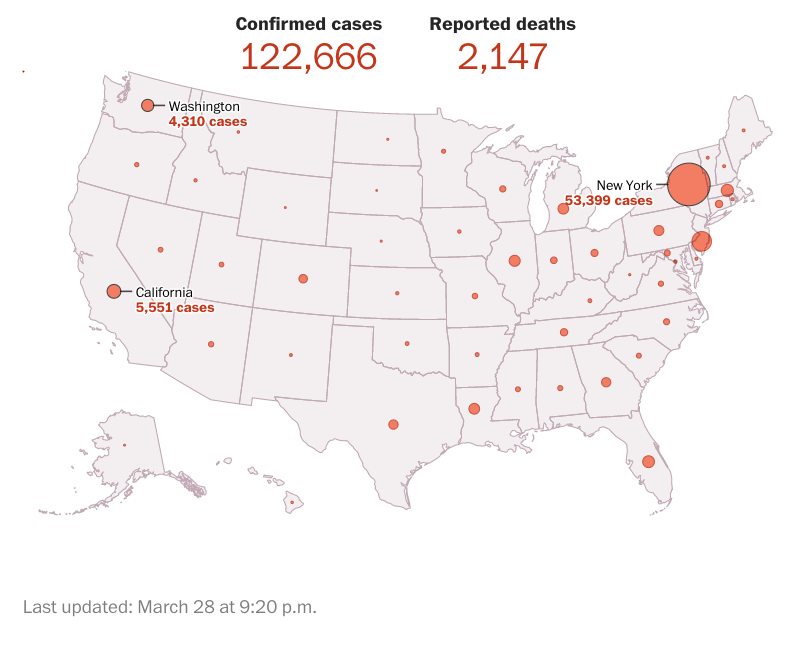 It appears the epicenter of the virus has shifted from West Coast to East Coast. Parts of the Northeast and Mid-Atlantic have densely packed metro areas with large senior populations, a dangerous combination that could lead to a further rise in cases and deaths. 
With March coming to a close, the virus spread is impacting ever more of the East Coast. According to a new report by Maryland Gov. Larry Hogan on Saturday, a nursing home in the state has just confirmed 66 cases, resulting in 11 hospitalizations, reported CBS Baltimore, in what appears to be a tragic repeat of the Washington events. 
NOW: Pleasant View Nursing Home where Carroll Co. health officials state that at least 66 people were tested positive for #COVID19 virus. This is...