'Ugly Choices' Will Have To Be Made... Very Soon
Authored by Sven Henrich via NorthmanTrader.com,
I had a lot of time away from screens this weekend which is probably a good thing. Always good to get to step away and get a different perspective away from the constant bombardment of news, opinions, and, dare I say, conspiracy theories.
People never lose their collective shit more than during times of crisis and uncertainty.
But I'm not here to talk about conspiracy theories, rather I just wanted to offer some perspectives. And feel free to disagree with them. We're all working with an evolving set of data points (health, macro, interventions, etc.) and lots of global emotions ranging from ignorance to hysteria during a time of great uncertainty.
But here's a few thoughts to consider as we collectively navigate through this mess.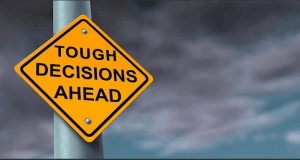 First off, this is not a drill, and everybody's lives are affected in one or the other, many severely, many are losing their lives and it's a horrid tragedy.
Yesterday I actually ventured on the roads here in England in earnest for the first time in a couple of weeks. It was not by choice, but as I had mentioned on twitter we had an unexpected house-guest. Not somebody we ever met before, but it was someone's elderly mom who got stranded in Heathrow as the South African government shut down all flights. With hotels on lockdown she literally had nowhere to go and after a frantic phone call from her daughter in the US we agreed to take her in.
Her job and life is in South Africa, now she was in a foreign country with no place to go. Her job likely gone at this point. There...