Bear Market? Or Just A Big Correction?
Tyler Durden
Sun, 05/24/2020 - 10:24
Authored by Lance Roberts via RealInvestmentAdvice.com,
Still Stuck In The Middle
As noted last week, the markets remain stuck between the 50- and 200-dma. That remained the case this week once again, keeping any expansion of equity positioning on hold.
The shaded blue area shows the containment of the market between the two moving averages. With the market very overbought short-term (orange indicator in the background), there is downside pressure on prices short-term.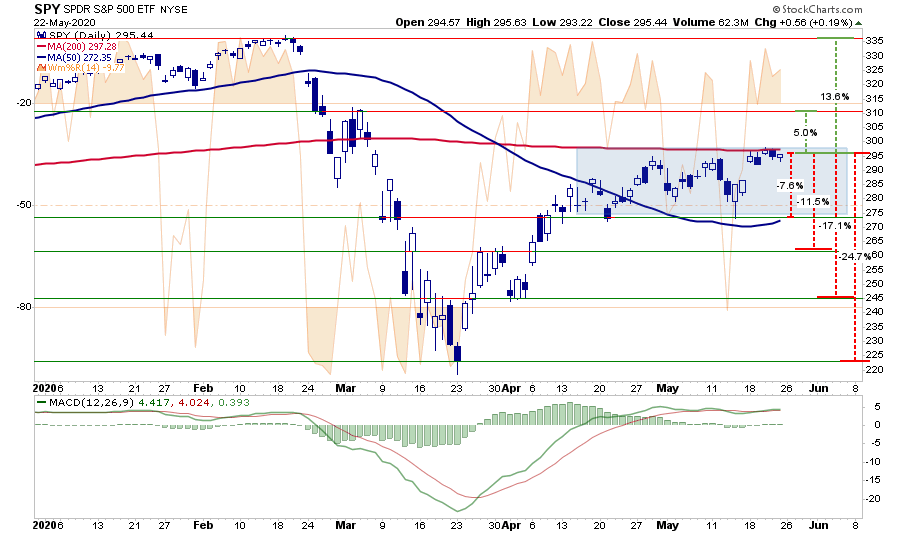 This past week, the current risk/reward ranges remain unfavorable. I have updated the levels from last week:
-7.6% to the 50-dma vs. +5% to the March peak.

-11.5% to -17.1% to the late March peak or early April low vs. +13.6% to all-time highs.

-24.7% to March 23rd lows vs. 13.6% to all-time highs.
For now, we remain "stuck in the middle."
However, if the markets can break above the 200-dma, and maintain that level, it would suggest the bull market is back in play. Such would change the focus from a retest of previous support to a push back to all-time highs.
While such would be hard to believe, given the economic devastation currently at hand, technically, it would suggest the decline in March was only a "correction" and not the beginning of a "bear market."
Was This A Correction Or A Bear Market?
Price is nothing more than a reflection of the "psychology" of market participants. A potential mistake in evaluating "bull" or "bear" markets is using a "20% advance or decline" to distinguish between them.
Such brings up an interesting question. After...