China Launches QE To Jumpstart Economy
Tyler Durden
Tue, 06/02/2020 - 14:24
One month ago, the South China Morning Post reported that China's top economic policymakers have been "engaged in heated debate over whether the country's central bank should directly buy special bonds issued by the finance ministry to help the government's economic support measures."
That "heated debate" appears to have ended with fans of money printing winning, because overnight the PBOC announced a new "credit loan program" which essentially amounts to another form of QE-lite (with Chinese characteristics of the Fed's Main Street Lending Program and the Paycheck Protection Program Liquidity Facility), and which will "temporarily" purchase loans made to small businesses from some local banks; it represents Beijing's latest attempt to boost the supply of credit to the real economy without a wholesale rate cut amid fears China's record debt load (some 317% according to the IIF) can no longer sustain shotgun easing.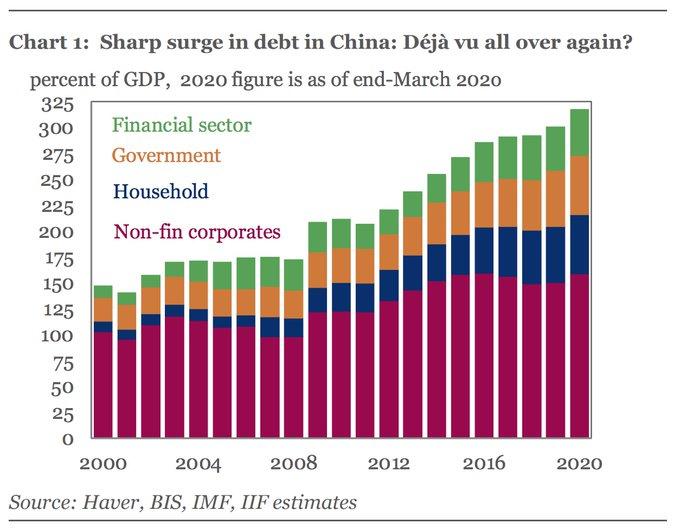 The central bank's plan will use 400 billion yuan ($56 billion) from its relending quota to buy 40% of un-collateralized loans to small and medium-sized firms from qualified local banks, with maturities of at least six months made between Mar. 1 and Dec. 31, 2020.
The newly announced program has elements of both PPP and QE.
First, the PBOC and CBIRC jointly stated that SME loans that are scheduled to mature this year are allowed to be extended through March 31, 2021, as long as borrowers promise to keep employment stable (think of it as a quasi PPP). To incentivize participation, the central bank will use RMB 40bn of its relending quota to subsidize banks with 1% of the loan principal. The PBOC stated that around RMB 7...