"It's Very Apocalyptic": Workers Return To Untouched Office 'Time-Capsules' 4 Months After Locking-Down
Tyler Durden
Sat, 08/08/2020 - 09:55
In many ways, lockdowns and quarantines have become "the new normal". Which is why it's eerie to return back to offices several months after they were abandoned for a glimpse as to what life was like prior to the pandemic.
Kevin Dorse, a communications professional in Ottawa, told Bloomberg: "It was like opening the lamest time capsule imaginable."
Offices were scattered with winter clothes, expired food products, calendars on the month of March and newspapers proclaiming "the worst stock market crash in decades," the article notes. As we know now, things have changed wildly since then - well, at least for the stock market.
But the trickling back to the office is starting to become a reality around the country as a few brave workers dare to head back into the abandoned and deserted buildings. In the last week of July, only 6.9% of employees had returned to offices in Manhattan that are managed by CBRE Group, Inc., the company said.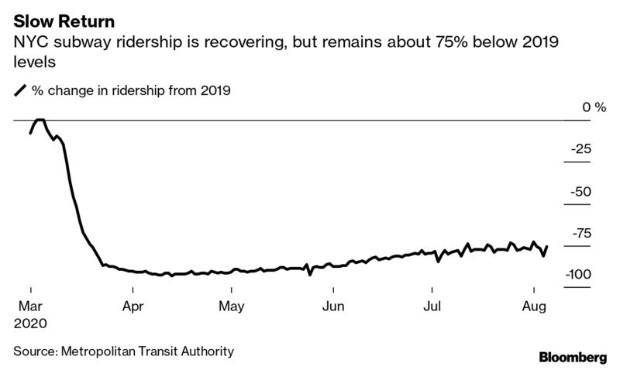 As restrictions start to lift, some people are braving returning to pre-pandemic life, taking to the subway like normal and making their way to their old office digs for the first time in months. The spaces are "exactly as they left them" back in March, Bloomberg notes. 
Jennifer Wallner, the events manager for the War Memorial Center, said she had to cancel a year's worth of activities. Upon returning to the office, she was greeted with flyers for an event - VetFest - that was supposed to take place on July 30, including 1940s style music and war reenactors. We're sorry we'll miss it this year. 
"That was...