Blast Of Cold Air To Freeze Central US Next Week
Tyler Durden
Sat, 09/05/2020 - 09:55
Refinitiv weather analyst Ed Whalen states, in a new report, that big temperature changes are ahead for the central US. 
Whalen said parts of the western and central US would see a blast of cold air early next week, for a short period, especially in the Rockies and parts of the Plains. The plunge in temperatures could result in snow for specific areas. 
The EC Operational Forecast for the next nine days (Sept. 05-14) daily average two months (F) deviation (with gray freezing line) shows Arctic air will pour into the central and western regions beginning Sept. 08.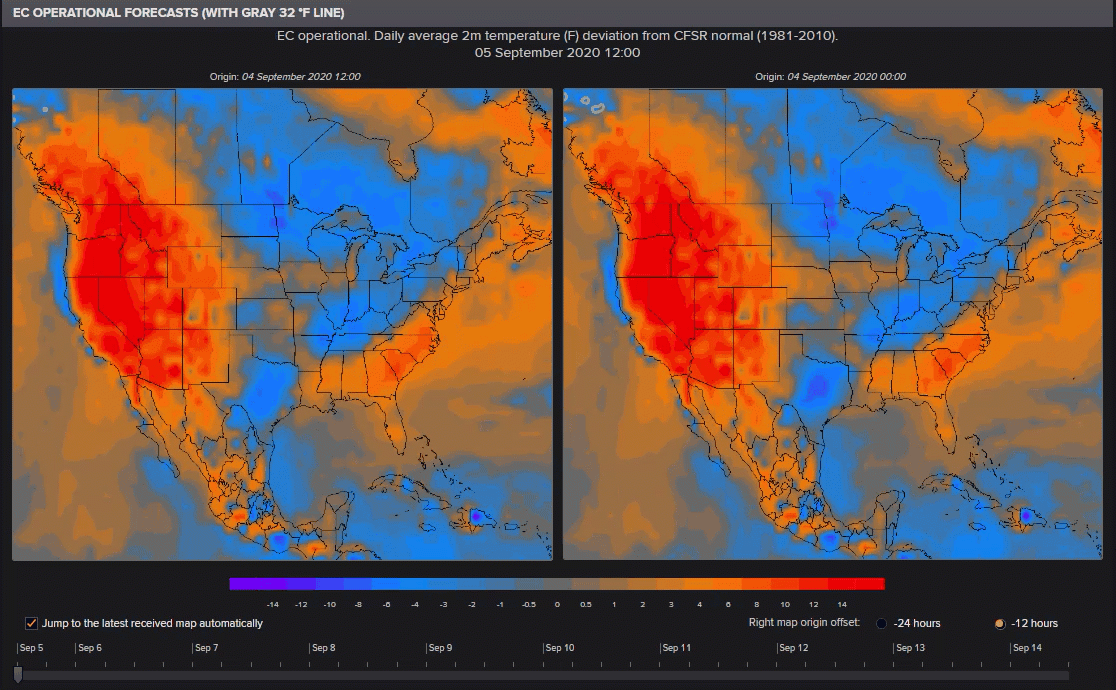 Here is Whalen's Sept. agriculture weather report for Central Plains and Midwest regions:
1-5 Day Forecast: A favorable high rainfall pattern is anticipated through early next week across the Central Plains and Midwest U.S., with the highest totals (nearing 50 mm / ~2 in above normal) in the latter. Despite cooler conditions in the Northern U.S. Plains and Southern Canada, temperatures across the core crop regions of North America will be fairly moderate through the next 5 days. This pattern overall will be largely beneficial for corn and soybeans. It is the 6-10 day period which is more notable.

6-10 Day Forecast: A blast of cold air will drop temperatures to around 5-10 °F below normal across the Central U.S. during this period. Frost/freeze risks for corn and soybean regions are not expected, as only areas west of NE/KS are likely to drop below freezing. On that note, there is a possibility for snow across some of the wheat producing areas of Colorado, which could delay plantings down the line. More on precipitation, a swath of heavy rainfall totals associated...