Global Wine Production Slumps For Second Year As Industry Crushed By Virus   
Global Wine Production Slumps For Second Year As Industry Crushed By Virus   
Tyler Durden
Sun, 11/01/2020 - 08:45
The International Organization of Vine and Wine (OIV) released its global wine production report, warning that after the high production year of 2018, for the second consecutive year, wine production volume will be below average, due to low volumes from South America and European output caps following the virus-induced downturn that crippled sales. 
In a zoom call, OIV Director General Paul Roca said the virus-induced global downturn has resulted in declining wine prices, output slumps, and dented demand. 
Roca said the pandemic worsened geopolitical tensions, and in some regions, led to tariffs, and a decline in international trade. He said lockdowns and other social distancing measures limited the flow of goods through cities and towns, along with hindering flows on an international basis, adding that the disruption led to disorder in distribution channels, limited production at wine-making facilities, and also resulted in inventory builds. 
"The situation differs from country to country depending on the length of lockdown measures, the consumption habits of the population and the elasticity of the substitution between wine and other beverages, and also the relevance of the regular channel or the development level of the eCommerce channel," he said. 
OIV estimates the 2020 global wine output will be around 253.9 million and 262.2 million hectolitres, with a mid‑range estimate at 258 million hectolitres. As OIV points out in the slide below: 
"After the exceptionally high production in 2018, for the second consecutive year global wine production is expected to be below-average."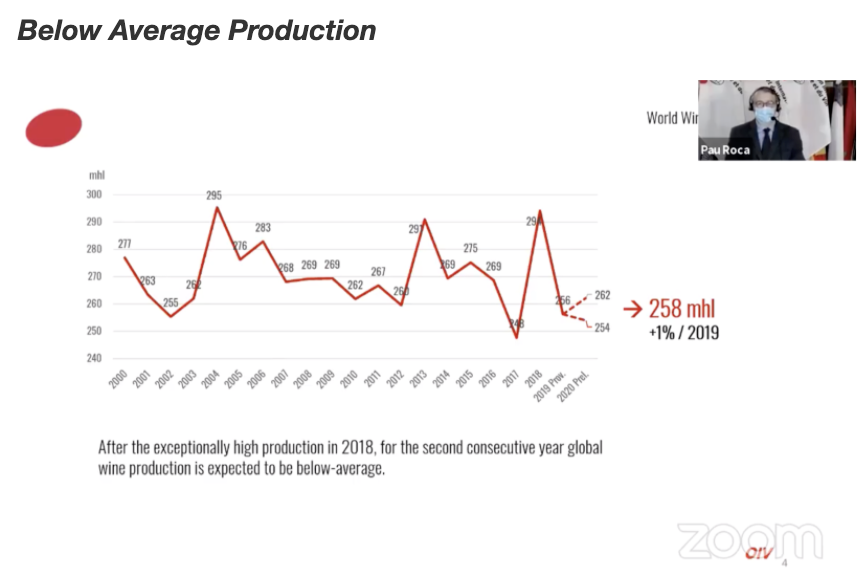 In terms of supply, Roca said the current situation is not entirely "bad news" given the abundance of worldwide inventory: 
"This is not necessarily bad news for the...