Investors Ignore Evidence At Their Financial Peril
Investors Ignore Evidence At Their Financial Peril
Tyler Durden
Mon, 11/09/2020 - 09:15
Authored by Lance Roberts via RealInvestmentAdvice.com,
Some of my favorite movies are when a group of investigators tracks down "wrong-doers." At first, they have only a few clues that are disparate and have little context. However, as the movie progresses, the clues coalesce into a meaningful outcome of catching the villain. In the financial markets, our job as investors is much the same. However, at the peak of bull market cycles, investors begin to ignore evidence at their financial peril. 
Let's take a look at the clues which may be more meaningful than individuals are currently assuming.
Clue 1: Valuations Expensive On Every Level
"Market bubbles have NOTHING to do with valuations or fundamentals."
I have touched on the impact of valuations and forward returns. Currently, these fundamental concerns remain devoid of attention by investors chasing short-term performance. Despite the March selloff, record numbers of unemployed, and a deep recession, the markets remain near all-time highs.
"We are in a crisis, the worst crisis in my lifetime since the Second World War. I would describe it as a revolutionary moment when the range of possibilities is much greater than in normal times. What is inconceivable in normal times becomes not only possible but actually happens. People are disoriented and scared. They do things that are bad for them and for the world."- George Soros
As shown in the chart below, the S&P 500 is trading in the upper 90% of its historical valuation levels.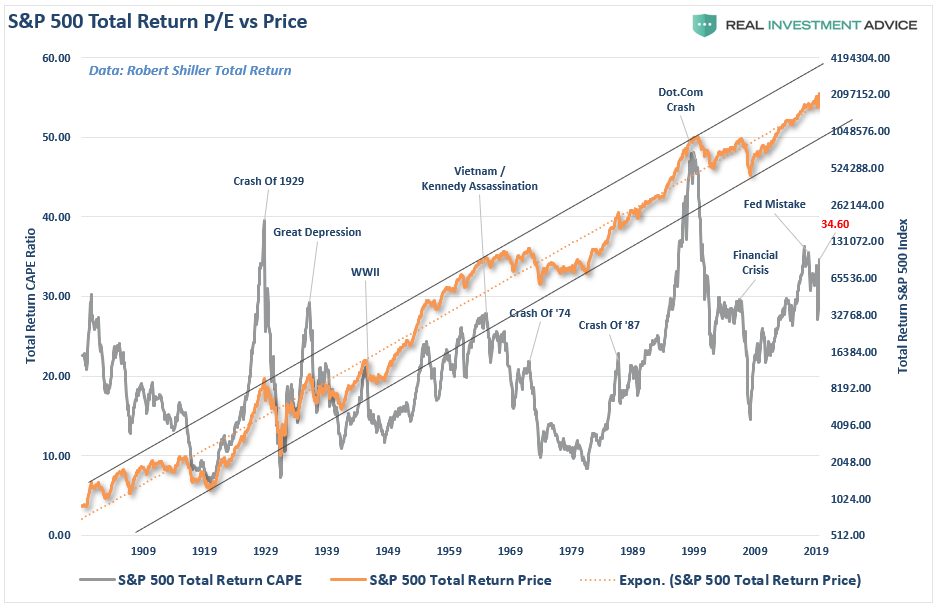 However, it is not just the basic fundamental measures of the market. As noted by the WSJ, valuations are expensive by almost every measure. To...