Bitcoin Tops $30k As Supply Squeeze Continues
Bitcoin prices accelerated overnight, surging through $30,000 for the first time and nearing $31,000 as we write...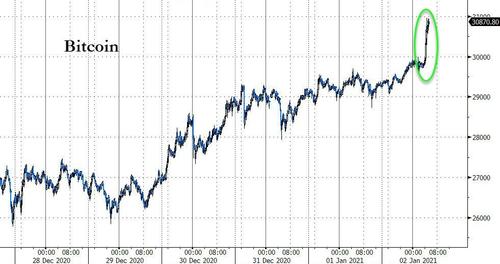 Source: Bloomberg
Now over $10,000 beyond 2017's record high...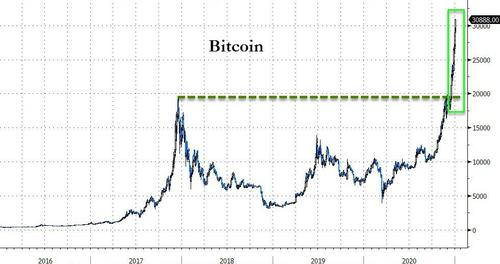 Source: Bloomberg
Ethereum was also bid to a new cycle high at $770, but well below its $1400-plus record from Jan 2018...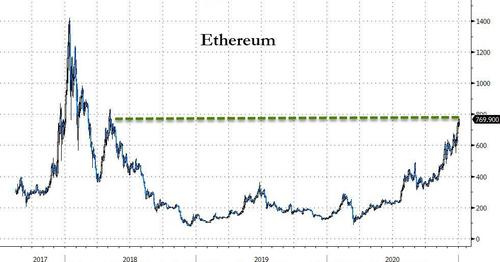 Source: Bloomberg
The area immediately below $30,000 had proven a source of intense selling pressure throughout the past few days, a setup similar to that which Bitcoin disrupted at $20,000 just weeks ago.
"If you're looking for an entry to HODL Bitcoin long term, don't nickel and dime an entry. You're not going to sweat a few thousand dollars of non-perfect entry when it's $100k,$200k,$300k in a year," popular statistician Willy Woo summarized on Friday.

"The main bull phase is here. Capital inflows has gone nuts."
But while the crypto currency is rising in value against the dollar, Bitcoin price claimed another all-time high, this time against gold, offering further confirmation that demand for digital assets is on the rise...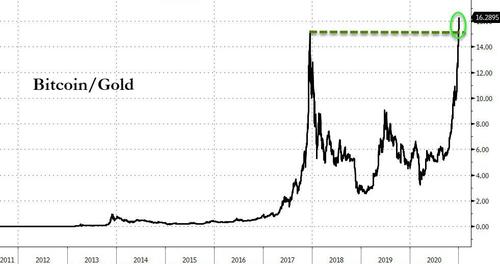 Source: Bloomberg
As Bitcoin nears $31,000, the digital currency trades at over 16 ounces of gold, surpassing the 2017 highs (15.6).
As we detailed previously, Bitcoin's biggest proponents believe the digital currency is eating away at gold's market cap as investors opt for the efficiency, portability and proven scarcity of the asset. Astonishingly, that view is also shared by JPMorgan Chase analysts, who believe Bitcoin's digital gold narrative is drawing capital away from precious metals.
Additionally, as CoinTelegraph notes, some believe that Bitcoin's supply squeeze could send prices higher over the course of 2021....