Crypto Extends Gains, Ethereum Near Record High After Musk Musings
Cryptos are up significantly this morning, as heavily-shorted stocks and silver take a beating.
Bitcoin is back above $35,000 this morning...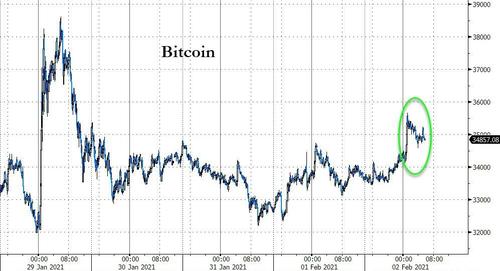 Source: Bloomberg
And Ethereum is testing back up towards its record highs around $1450...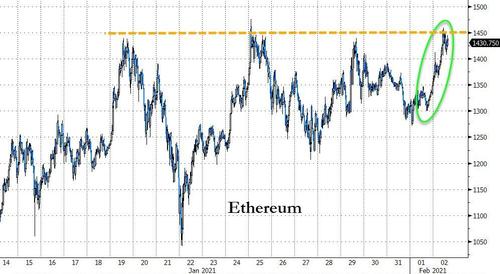 Source: Bloomberg
Various catalysts for the most recent move have been suggested from Elon Musk's supportive comments to ongoing institutional interest, and from 'bullish' Coinbase outflows to suggestions that the Reddit/WSB crowd are showing some interest.
"With investment and trading platform Robinhood halting trading of certain assets like GameStop and Nokia, and NASDAQ president and CEO Adena Friedman calling for regulations to prevent retail investors from coordinating on social media, the case for cryptocurrencies only grows stronger," Nicholas Pelecanos, head of trading at NEM Ventures, told CoinDesk.
The CEO of CryptoQuant says a recent 15,200 BTC outflow at Coinbase is a sign that institutions are accumulating for the next Bitcoin bull break.
"Since the price is eventually determined on exchanges, massive non-exchange transaction volume is considered as a bullish signal. These transactions include OTC deals."

Additionally, as CoinTelegraph notes, the world's richest man, Elon Musk, openly confirmed that he was a "supporter" of Bitcoin during an interview with Clubhouse aired late Sunday,
"I've gotta watch what I say here; some of these things can really move the market," he began.
Musk revealed that even his friends had tried to onboard him over the years, even feeding him a slice of a Bitcoin cake in 2013. Nonetheless, having held off on closer involvement, he now admits that he is "late to the party."
"So...