Can The Fed Both Tap On The Brakes And Floor The Gas?
Authored by Michael Lebowitz via RealInvestmentAdvice.com,
Fed speakers repeatedly promise policy tightening is a story for next year or the year after. To quote Jerome Powell – "We're not thinking about raising rates, we're not even thinking about thinking about raising rates."
Short term interest rates are approaching zero percent and will likely fall below zero shortly. The culprit is an unusual circumstance at the U.S. Treasury. As we discuss, the Fed may have no choice but to tighten monetary policy to offset the condition.
For investors banking on continuing massive stimulus, what unexpectedly lies ahead may not be the same as the road we have been traveling.
Buckle Up
Andreas Steno Larsen, of Nordea Bank, wrote a thoughtful article on a significant liquidity event on the horizon. His article, Brace Yourself… USD Liquidity is Coming discusses an interesting development with the U.S. Treasury's cash account held at the Federal Reserve.
As shown below, the Treasury's cash balance was never above $400 billion before the current period. Now it sits at four times prior record highs.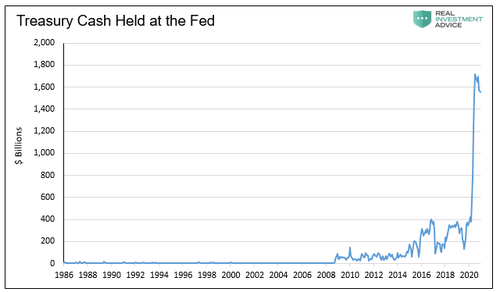 Over the last year, the Treasury borrowed massive sums of money to fund the CARES Act. It turns out they borrowed more than was spent. The extra cash now sits idle at the Federal Reserve.
In its February forecast, the Treasury estimates they will reduce its cash surplus to under $500 billion by the end of the second quarter.
Essentially they will spend down the cash to meet demands. As a result, their borrowing needs will be small over the period.
Per the U.S. Treasury (LINK):
During the January – March 2021 quarter,...