'Grid Chaos' Sparks Massive Rolling Blackouts Across Texas 
Rolling power outages are in effect across the state of Texas as the polar vortex split has poured some of the coldest air ever into the central US. There are nearly 2 million Texan customers without power as of Monday morning. 
TEXAS LOSS OF POWER EQUIVALENT TO 2 MILLION HOMES

— zerohedge (@zerohedge) February 15, 2021
Texas power grid operator ERCOT warned Sunday of an "energy emergency" and threatened "rotating outages." By Monday morning (0125 local time), ERCOT began "rotating outages" to "reduce demand on the electric system." It continued: "Traffic lights and other infrastructure may be temporary without power."
As of 0700 ET, PowerOutage.US shows 1.834 million customers are without power across the state amid frigid temperatures.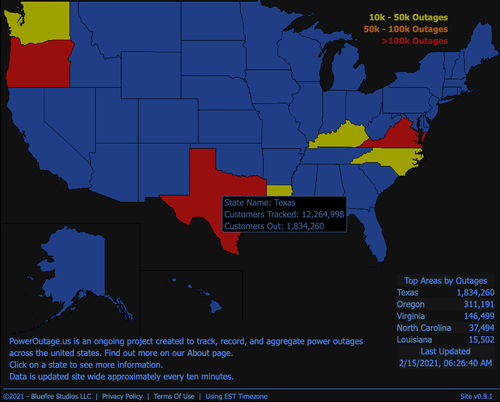 ERCOT officials said outages are expected to last between 15 and 45 minutes. They say blackouts are "necessary to maintain the system's reliability." Power demand is expected to remain at record levels through Tuesday as record-low temperatures will stay in the region through the week. 
"Every grid operator and every electric company is fighting to restore power right now," said Bill Magness President and Chief Executive Officer of ERCOT. 
Temperatures across Texas and the central US are expected to be well below normal through the end of the week.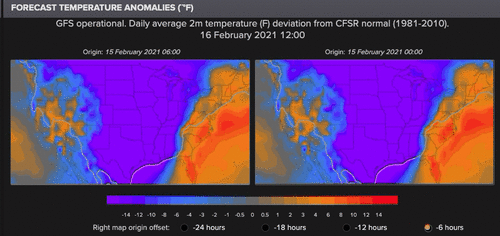 ERCOT's decision to implement rolling power outages comes after we first warned of an imminent grid crisis on Thursday, when we reported that natgas prices across the plains states had soared to never before seen levels as a result of a brutal polar vortex blast.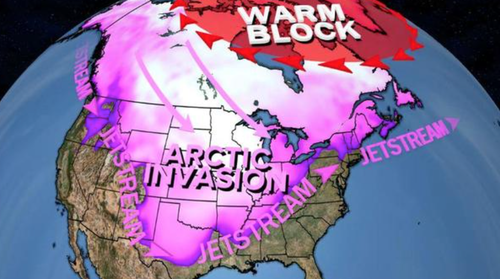 ... which cut off natgas supply amid wellhead freeze-offs, cutting production receipts just when customers' demand for...