"The Biggest Concern Is Stagflation" - Factory Orders Tumble As Services Surveys Signal Soaring Inflation
Echoing the Manufacturing surveys' main theme, US Services sector surveys from Markit and ISM show input costs are exploding higher.
Despite weakness in 'hard' macro data, Markit's Services survey surged ahead to its highest since July 2014 ( up from 59.8 to 60.4) with new order growth at six-year highs. PMI's Services survey exploded higher to 63.7 (vs 59.0 exp) - a record high...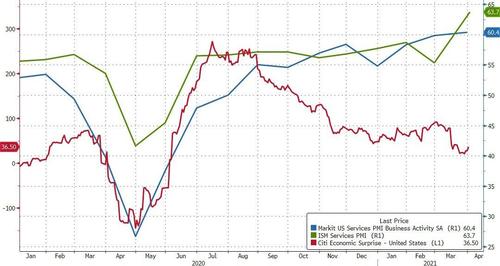 Source: Bloomberg
Comparing all the surveys
Markit US Manufacturing rose from 58.6 to 59.1

Markit US Services rose from 59.8 to 60.4

ISM US Manufacturing surged from 60.8 to 64.7

ISM US Services exploded from 55.3 to 63.7 - a record high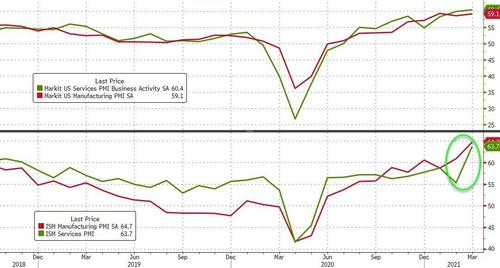 Source: Bloomberg
All seven broad categories monitored by the US Sector PMI series registered an increase in output during March and a similar pattern was seen for incoming new work.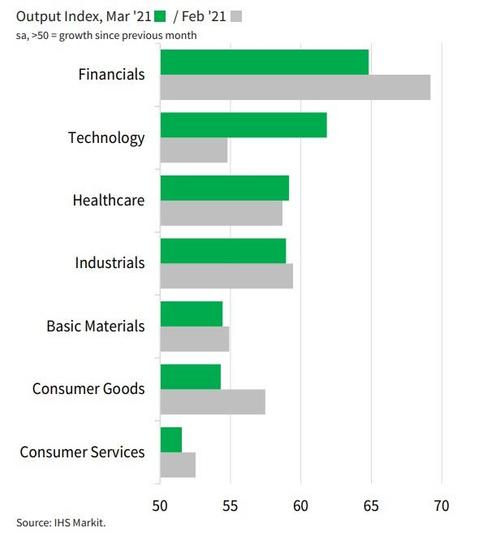 Employment growth continued in six of the seven categories, with consumer services the only exception. Meanwhile, strong cost pressures persisted in March, led by a survey-record rise in input prices across the basic materials category.
On the price front, input costs soared in March.
The rate of inflation accelerated to the fastest since data collection for the services survey began in October 2009. Anecdotal evidence widely linked the uptick in costs to higher prices for key inputs such as PPE, paper, plastics, fuel and transportation. Subsequently, firms sought to pass on higher costs to clients through a sharper rise in selling prices. A number of companies also stated...