New Home Sales Explode In March To Highest In 15 Years
New Home Sales Explode In March To Highest In 15 Years
Unlike the disastrous drop (no rebound from February's plunge) in existing home sales (to 7-month lows) in March, analysts expected new home sales to rebound aggressively from the weather-impacted 18.2% collapse in February, and it did. New Home Sales exploded 20.7% higher MoM in March. Thanks to the base effect, this means new home sales are up a stunning 66.8% from last March's lockdown lows...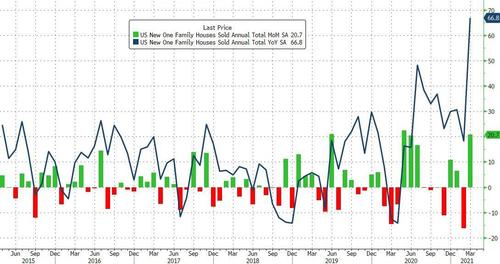 Source: Bloomberg
There were a number of significant revisions to historical data too (Dec from 919K to 949K, Jan from 948K to 1010K, Feb from 775K to 846K)...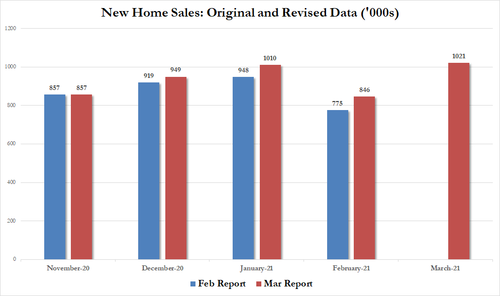 The total new home sales SAAR surged back above the 1mm mark (1.021mm), the highest since August 2006...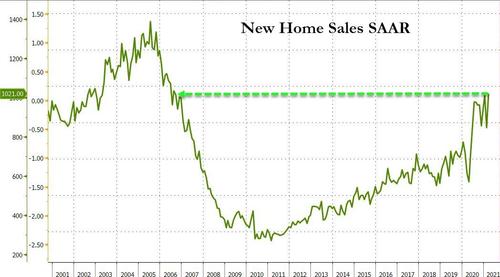 Source: Bloomberg
Notably, unlike soaring existing home prices, median new home price rose just 0.8% YoY to $330,800 (average selling price at $397,800).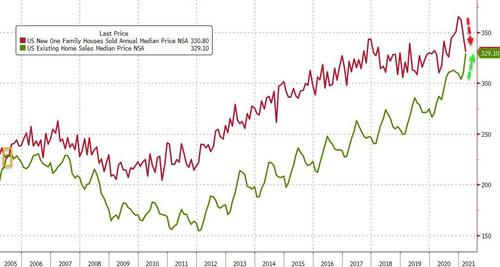 New- and Existing-home prices haven't been this close since 2005....