Russia Tells West All Troops Now "Back At Permanent Bases" After Ukraine Buildup
Russia Tells West All Troops Now "Back At Permanent Bases" After Ukraine Buildup
Russia's military has announced that all additional previously deployed troops to the country's south and southwest - which had sparked a 'new Ukraine crisis' late last month into this month - have now returned to their home bases. This month's "massive drills" had alarmed Kiev's allies in the West, and set off a series of tit-for-tat escalating diplomatic expulsions which began when Washington booted ten Russian consular officials (along with Biden's sanctions for the SolarWinds hack and assorted election meddling claims), so it appears the Kremlin is taking pains to inform the West there is no feared 'offensive' in the works against Ukraine.
Russia's defense ministry had never made it a secret that large-scale, nationwide 'readiness' drills would commence early this month. While what was described as a "massive inspection" of military units stretching from the Northern Fleet in the Far North, and to the Kuril Islands and Kamchatka, down to Crimea and near Ukraine's eastern border in the South, involved hundreds of thousands of troops across the nation, it was the southern build-up which drove world headlines. This in large part because Kiev saw in it a prelude to invasion of its eastern Donbass region amid a severe uptick in fighting between Russian-backed separatists and Ukrainian national forces that led to multiple Ukrainian troop deaths.
The Associated Press reports the following of the latest Russian military update: "Gen. Valery Gerasimov, the chief of the military's General Staff, said that more than 300,000 troops, nearly one-third of the nation's 1 million member military, took part in the exercise earlier this month."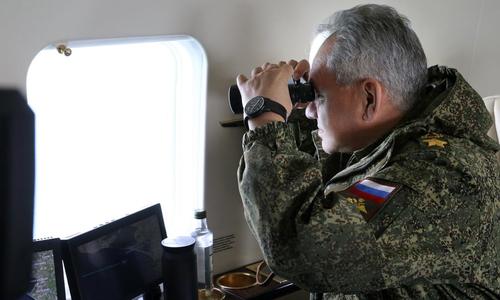 It remains unclear what...