Stagflation Slams US - Production Slumps As Supply Chain Disruptions Spark Record Surge In Prices
Stagflation Slams US - Production Slumps As Supply Chain Disruptions Spark Record Surge In Prices
After March's explosive surge higher in 'soft' survey data on the manufacturing (and services) sector, analysts expected a very modest increase in April (despite China's disappointing survey data.. and the ongoing slide in 'hard' economic data in the US).
Markit's Manufacturing PMI for April (final) was a slight disappointment at 60.5 (60.7 exp, 60.6 flash) but well above the 59.1 in March. This is the highest level ever for Manufacturing PMI.
ISM Manufacturing was at its highest since 1983 in March and a small improvement was expected... but it plunged from 64.7 to 60.7 (even as prices paid increased further).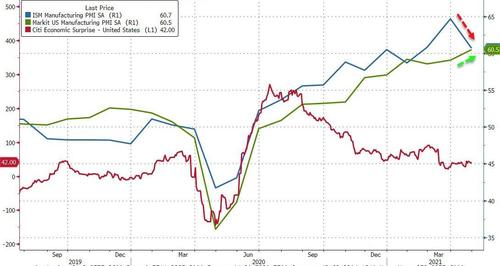 Source: Bloomberg
The headline index was also pushed higher by unprecedented supplier delivery delays (ordinarily a sign of improvement in operating conditions).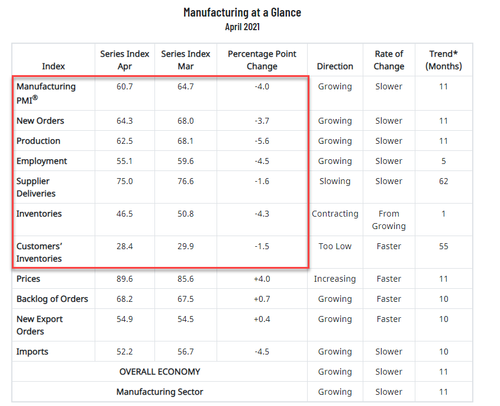 The PMI data for April signalled another marked monthly deterioration in vendor performance across the goods-producing sector, with lead times lengthening to the greatest extent on record. Alongside raw material shortages and pressure on supplier capacity, firms linked delays to ongoing disruption to transportation, including port congestion.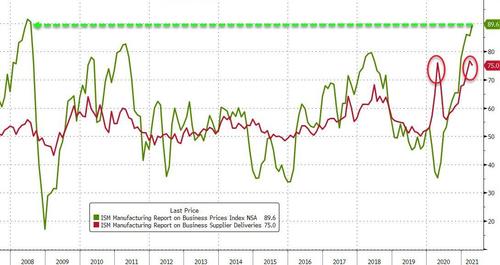 Source: Bloomberg
Everything except Propylene is higher in price...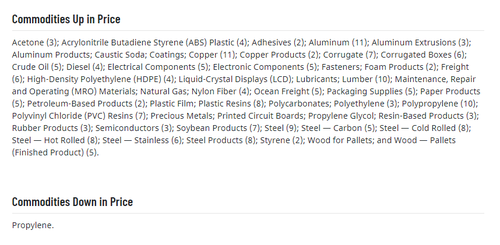 Chris Williamson, Chief Business Economist at IHS Markit said: "US manufacturers reported the biggest boom in at least 14 years during April. Demand surged at a pace not seen for 11 years amid growing recovery hopes and fresh stimulus measures.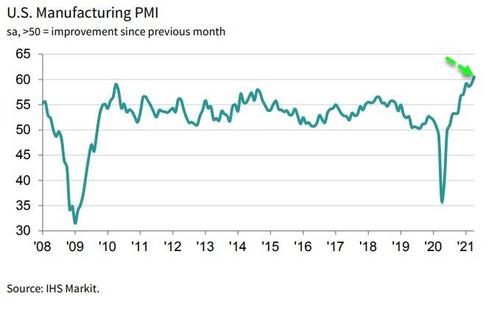 However, Williamson notes that "supply chain delays worsened, however, running at the highest yet recorded by the survey, choking production at many companies. Worst affected were consumer-facing firms, where...