'Anything But Transitory' - US Services Sector Surveys Signal Serious Stagflation
After the mixed picture from manufacturing surveys (PMI higher, ISM lower), analysts expected Services sector surveys to improve in April. And amid continued weakness in hard economic data, Markit's Services sector survey thrashed expectations (64.7 vs 63.1 exp) and surged to record high (with its 11th month of expansion). However, like its manufacturing brother, ISM Services disappointed expectations and fell from 63.7 to 62.7 (well below the expected rise to 64.1)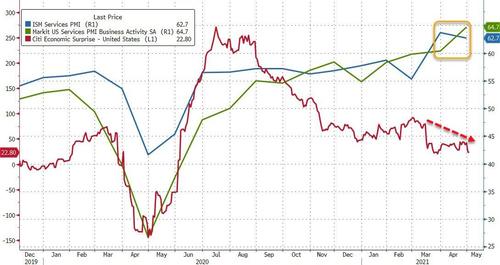 Source: Bloomberg
Overall, the picture from 'soft' survey-land is 'mixed' at best...
Markit Manufacturing rose in April to record high

PMI Manufacturing plunged in April after reaching its highest since 1983 in March

Markit Services jump in April to record high

PMI Services dropped in April from record highs in March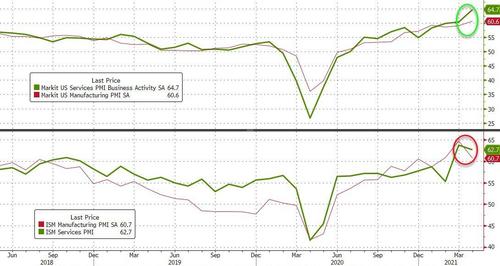 Source: Bloomberg
Stagflation fears remain front and center...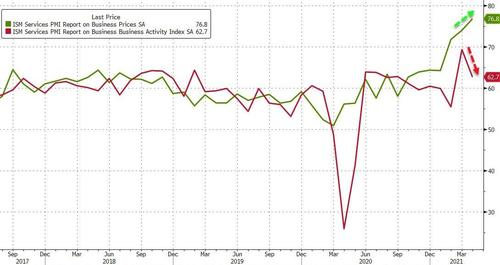 As inflation soars...
"...input costs faced by service sector firms increased at an unprecedented rate in April. The substantial rise in cost burdens was often linked to hikes in supplier prices and greater transportation fees. Companies particularly noted higher costs of plastic, packaging, PPE and fuel."
And production/output falls...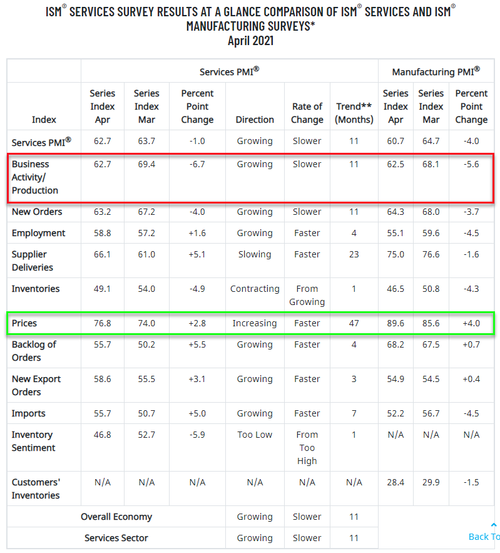 The IHS Markit Composite PMI Output Index posted 63.5 in April, up from 59.7 in March, to signal the sharpest upturn in private sector output since data collection began in October 2009.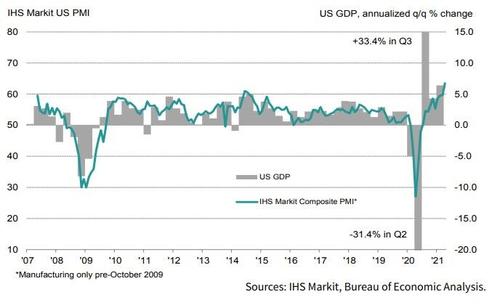 The overall expansion was supported by faster growth in both manufacturing and service sector activity.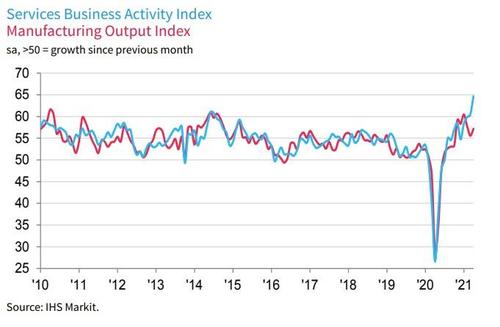 And US is leading the world...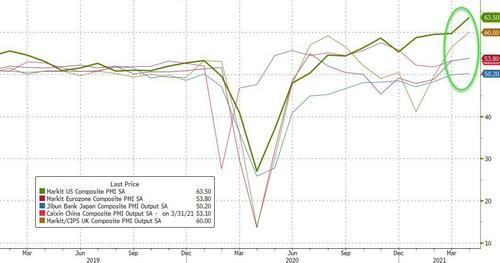 Source: Bloomberg
Commenting on the latest...