B of A: "Transitory" Inflation And Supply Chain Imbalances Are Hitting Autos Hardest
The auto industry is already stuck between a rock and a hard place, as dealers struggle to get production up to speed despite an ongoing semiconductor chip shortage that has hamstrung production for some of the world's biggest manufacturers.
At the same time, the U.S. is letting the inflation genie quietly begin to slip out of the bottle. As rising prices take hold amidst supply chain imbalances, focus has turned to automobiles. With new car inventory crunched due to production constraints, used car prices have skyrocketed, as we have noted recently. 
Now, a new note from B of A called "Want to buy a car, good luck" lays out exactly what type of crunch the industry is in - most recently exemplified in the inability for consumers to even rent cars, let alone purchase one. Detailing "lean inventories" and "price pressures", the note first explains that autos are so far the biggest standout for the country's inventory to sales ratio."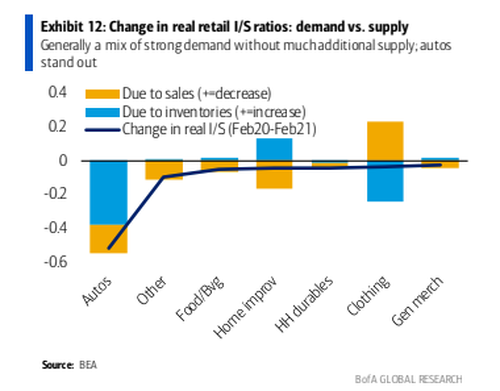 The note also takes a grim tone on when things could return to some semblance of normalcy: "This is a function of both demand and supply: the stimulus and reopening-fueled burst in demand was not matched by a comparable gain in supply. Instead, production has been hampered due to COVID-related supply chain issues and labor shortages," it reads. It also says that "transitory" can feel like a long time and that the U.S. economy is still "many months" from feeling more balanced.
Speaking about the supply/demand dynamic of goods causing price spikes, the bank writes: "This highlights the nature of this cycle and the rotation towards goods spending. When producers and companies were first faced with the pandemic, they prepared...