After Being Declared 'Dead' For the 414th Time, Crypto Markets Are Roaring Back
The ripples created by the cryptocurrency market crash which saw $1.1 trillion eviscerate from the global market cap in a matter of days continued to reverberate on Wednesday, as a majority of coins experienced notable rebounds.
Optimism on #Bitcoin plunged to one of its lowest levels in 5 years yesterday.
Less than a day later, it has already surpassed its average *3 month* return.
That's one crazy market, man. pic.twitter.com/73JXXta1CB

— SentimenTrader (@sentimentrader) May 20, 2021
While bitcoin has been one of the world's best performing assets over the past 10 years, the cryptocurrency has had its fair share of volatility and price corrections. Using data from CoinMarketCap, this graphic looks at bitcoin's historical price corrections from all-time highs.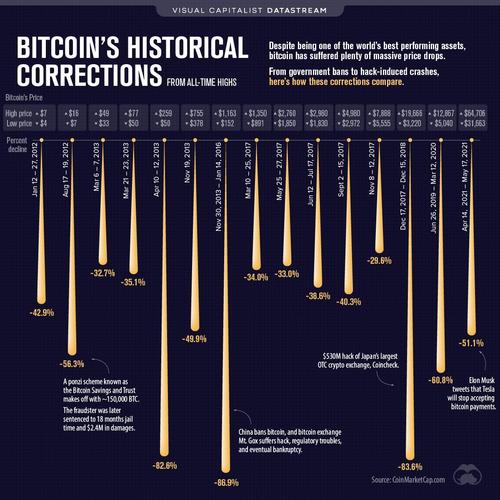 And once again, after yesterday's crypto carnage, Tom Brady (and others) are apparently buying the dip...
SMH...I've seen better from you PFT. Over here we just buy the dip! https://t.co/1iJq0JTUUh

— Tom Brady (@TomBrady) May 19, 2021
The FUD-full naysayers were quick to gloat about the death of bitcoin (for the 414th time),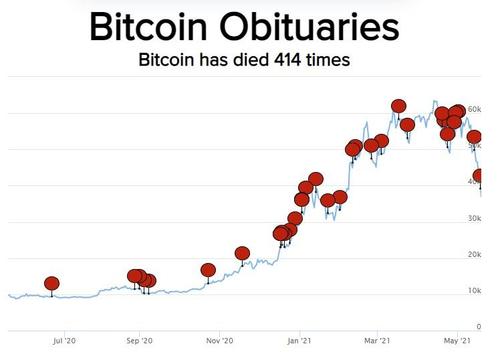 But, Bitcoin is now up over 40% from yesterday's spike lows, trading back above $42k this morning...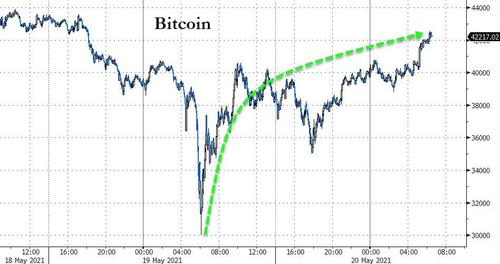 Source: Bloomberg
Ethereum is up a stunning 55% from yesterday's lows, surging back up to $3,000...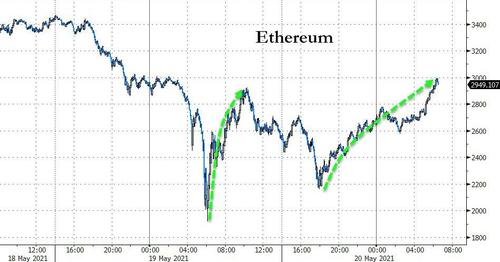 Source: Bloomberg
Ethereum is outperforming on the rebound, as we noted yesterday, institutional investors are increasingly realizing its 'smartness' relative to 'dumb' digital gold in bitcoin.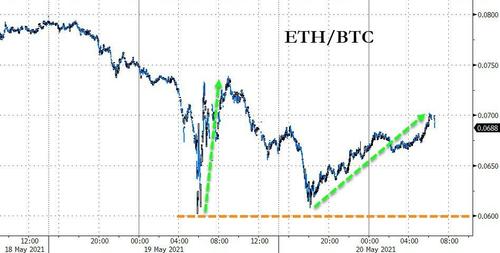 Source: Bloomberg
Michael Antonelli, a market strategist for Baird...