Economist David Rosenberg Says The Bond Market Has Inflation Right
Authored by Mike Shedlock via MishTalk.com,
Who's right? The Bond market or the massive herd screaming inflation?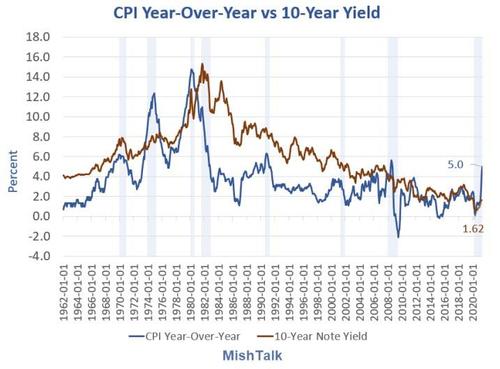 As of the end of May, the Year-Over-Year CPI was a hot 5.0%. The yield on the 10-year Treasury note was only 1.62%.
The 10-year yield has since fallen to 1.46% causing alarm bells in some quarters. 
'Shocking' Inflation Numbers
The inflation numbers seem shocking but 'Shocking' inflation numbers will fall back to earth and hurt reopening trades, economist David Rosenberg predicts.
Economist David Rosenberg believes the bond market is getting inflation right and yields shouldn't trade at higher levels.

His reasoning: Inflation as a temporary phenomenon caused by enormous pent-up demand and supply chain issues connected to the coronavirus pandemic.

"The numbers have been shocking to the upside, no doubt about it. But it's pretty easily explainable," the Rosenberg Research president told CNBC's "Trading Nation" on Friday. "I don't understand why people want to superimpose these last couple of months into the future." 

So far, the bond market is shrugging off inflation. The benchmark 10-year Treasury Note yield hit its lowest level since March 3 on Friday and closed at 1.45%. The yield is off 7% over the last week and down almost 11% over the past month.

"There is just so much noise and distortion in the data," said Rosenberg, who served as Merrill Lynch's top North American economist from 2002 to 2009. "The most dangerous thing anybody can do is extrapolate what's happening now."
Refusal to Hyperventilate
Rosenberg  says he "refuses to hyperventilate over inflation" and that surging growth will fade in the second half of the year. 
I agree...