'Kink' In T-Bill Curve Surges As Yellen Urges Action Over Debt Ceiling
The Treasury Department will probably exhaust its measures to avoid breaching the debt limit sometime in October, Secretary Janet Yellen said Wednesday, offering more specific guidance than she previously gave.
"Based on our best and most recent information, the most likely outcome is that cash and extraordinary measures will be exhausted during the month of October," Yellen said in a letter to Congress.

"We will continue to update Congress as more information becomes available."
Yellen had previously said in July that there were scenarios in which the Treasury could exhaust its special measures and run out of cash "soon after Congress returns from recess" in September.
The T-Bill curve is showing serious stress around this timeframe...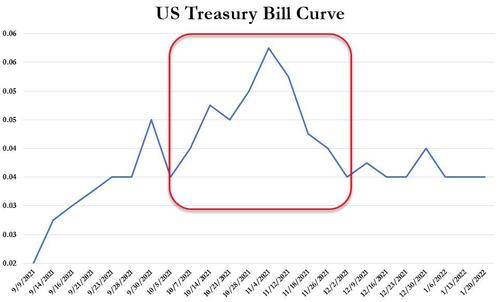 As the spread between October and November Bills surges...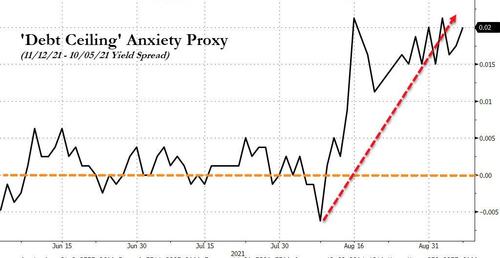 As Bloomberg reports, Democratic lawmakers are expected to attach a measure addressing the debt limit to a stopgap spending bill that will be needed to ensure the federal government stays funded past the start of the fiscal year on Oct. 1.
Almost all Republican senators have pledged to vote against lifting or suspending the limit, tying that position to their antipathy toward Democrats' moves to enact a $3.5 trillion package of social spending.
While this is all politics as usual, Yellen's word choice does sound a little more nervous than we previously remember during these debacles:
"I respectfully urge Congress to protect the full faith and credit of the United States by acting as soon as possible," Yellen
Full letter below: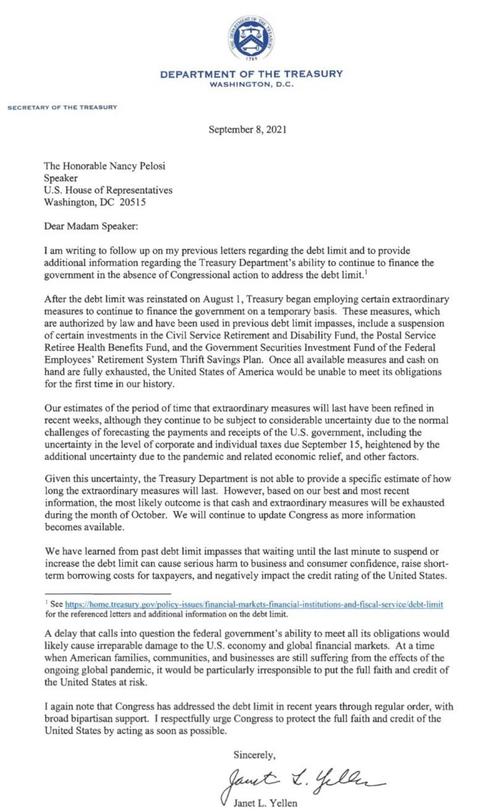 ...