'Dangerous' Jerome & 'Doomsaying' Janet Spark Bond, Stock, Bullion, & Bitcoin Battering
Fed Chair Jerome Powell (accused of being a "dangerous man" by Sen/ Warren) seemed to hint today that the shift in inflation is not just 'not transitory' but could be 'structural', prompting many to adjust expectations even more hawkishly for Fed action.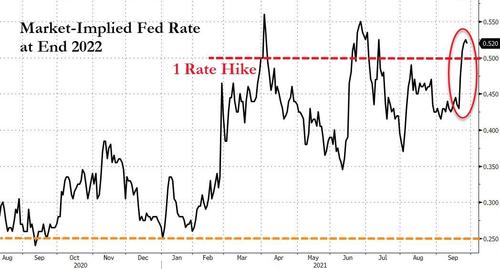 Source: Bloomberg
There is now a greater than 50% probability of rate-hike in September 2022...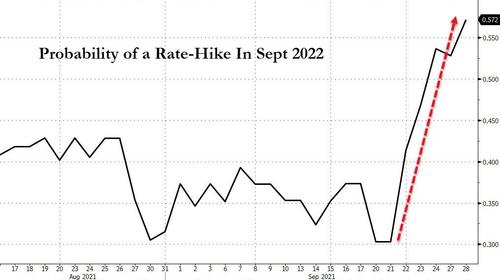 Source: Bloomberg
Treasury Secretary Janet Yellen began her testimony today by warning of all the worst parts of the bible occurring if Republicans don't vote to increase the debt limit by October 18th (which Democrats can do all on their own but are loathed to be pinned to) - "likely spur major financial collapse". That sent Debt Ceiling anxiety soaring...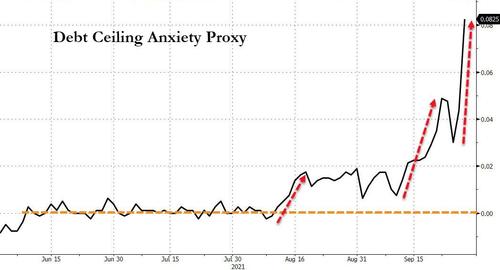 Source: Bloomberg
Is it different this time?
 

"The debt limit is different this time. It is not just shadow play – in fact, it is dangerous and there is a real chance of a U.S. government default, largely because the shadow play has gotten out of hand. " @capitalalpha

— R. Christopher Whalen (@rcwhalen) September 28, 2021
hhmm...
Either way, both of the events above helped spike Treasury yields, especially at the long-end...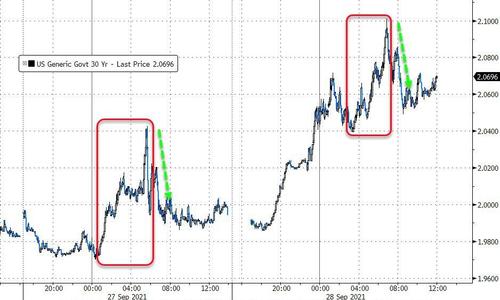 Source: Bloomberg
And the surge in yields extended the pain for growth stocks relative to value, but as yields really accelerated higher, equity traders got spooked and puked (dumping at the European open and US open). Stocks bounced off their lows around 1430ET (margin call time) but Jeremy Grantham's appearance on CNBC, calling the market a spectacular bubble coincided with another leg lower in the major indices.....