Germany's "Traffic Light" Coalition Agrees To 12-Page Policy Framework, Hopes To Form Government By Christmas
Germany's "Traffic Light" Coalition Agrees To 12-Page Policy Framework, Hopes To Form Government By Christmas
The "traffic light" framework agreement struck Friday between the Social Democrats, Greens and the Free Democratic Party - the three parties that will form Germany's first post-Angela Merkel government - has come together more quickly than many Germans probably expected.
After just a week of talks, the three parties unveiled the 12-page framework during a Friday press briefing. While it's certainly progress, the framework is still very thin and negotiators from all three parties will likely take months to fill in the gaps.
By announcing the deal, German Finance Minister Olaf Scholz took another step toward succeeding Angela Merkel as Germany's next chancellor. During all of Germany's post-WWII history, a coalition deal has never collapsed after reaching this stage. Scholz, the SPD leader and likely the next Chancellor, has insisted that his vision for a "progressive" Germany can be realized even if the Greens and the FDP aren't exactly ideological bedfellows.
The framework focuses on issues like climate change, taxes (namely, a commitment not to increase them), simplifying immigration processes as well as a new agreement on the minimum wage, among other commitments. The three parties have been holding talks since Scholz's center-left SPD took home a plurality of the vote during Germany's federal election.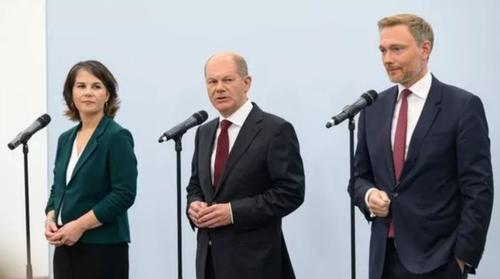 Now, over the next two months, the three parties policy experts must fill in the many gaps left in the 12-page deal. The full coalition deal between Angela Merkel's conservatives and the SPD ran to 175 pages and included specific commitments on legislation to be enacted in the Bundestag.
Scholz said Friday that he hoped to have the whole policy framework finished and the government formed by Christmas. While most...