From "Dovish Rug-Pulls" To "Weaponized Gamma", Nomura Explains Why 'This Is Not Fine'
The Nasdaq looks set to rally once again this morning, the 10th straight day of gains and longest win-streak since Dec 2020, pushing it to the most overbought since August 2020...
Source: Bloomberg
Much of this most recent surge has been driven by what Nomura's Charlie McElligott calls a "dovish rug-pull" by the world's central banks:
...the RBA at the start of the week (no chance of '22 hike, most likely a '24 story), 

...the Fed (back to late '22 at earliest on resumption of "transitory"!) and most incredibly,

...the BoE (7-2 "no change" vote, and Bailey didn't even vote for a hike following weeks warning of imminent moves and confirming mkt pricing….are you kidding me?!)

...after what had been a month+ of coordinated "hawkish" messaging across global CBs.
So after a month of scrambling to price-in hikes across global STIRs (Short-Term Interest Rates) on account of the Energy Prices- and Supply-Chain- disaster, CBs from RBA, ECB, Fed, BoE to even the National Bank of Poland (who hiked by 75bps earlier this week, but is now saying further hikes are not required) are now saying that markets went too far in pricing-in aggressive hiking during the still (supposedly) fragile global economic recovery.
But, while stocks read the tea-leaves ultra-dovishly, we note STIRs barely budged on their expectations. Yes, rate-hike odds have fallen since The FOMC announced taper but they have also increased again this morning after the payrolls beat...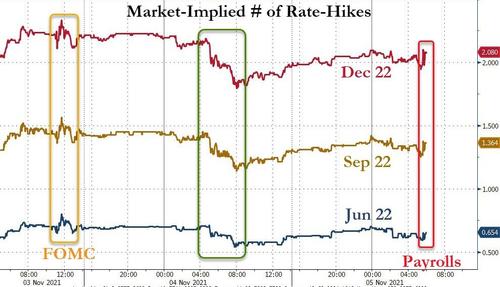 Source: Bloomberg
Furthermore, McElligott notes that suddenly, inflation is "transitory" again:
Jerome telling us that the bar to...