"REKT" - Stocks Storming Higher On Massive Hedge Fund Short Squeeze
When looking at the latest Goldman Prime Broker data, our collective jaws fell to the floor: while perhaps not a huge surprise, Goldman writes that the last two weeks saw that "largest 10-day net selling in US equities since Apr '20 led by Macro Products as well as Info Tech/Consumer Disc stocks" with the bank elaborating that "North America and to a lesser extent EM regions were the most net sold, while DM Asia was net bought driven by short covers."
But what was stunning was Goldman's drilldown into the flow, where GS Prime found that the selling of US stocks - which made up more than 85% of the global $ net selling (-1.4 SDs) - was driven almost entirely by short sales and to a lesser extent long sales (9 to 1).
And the piece de resistance - "US equities have been net sold in 7 of the past 10 days. In cumulative $ terms, the net selling in US equities over the past 10 days is the largest since April '20."
Said otherwise, hedge funds were dumping stocks in the past 10 days - with most of the transactions outright shorting than long sales - with retail investors buying for the most part as we noted recently.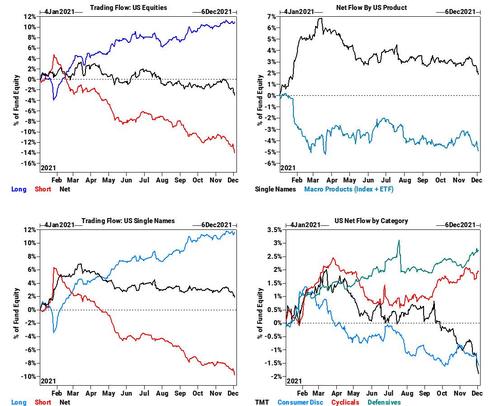 Some more remarkable details from the Goldman Prime report:...
Both Single Names and Macro Products (Index and ETF combined) were net sold and made up 54% and 46% of the $ net selling, respectively.  
7 of 11 sectors were net sold led in $ terms by Info Tech, Consumer Disc, Industrials, and Utilities, while Staples, Materials, and Energy were the most net bought.