"We Are Soul Searching": Cathie Wood Is Confused Why ARKK Is Plunging As NASDAQ Soars
Allow us to introduce you to the confusion you have to deal with when your "active" strategy is to pick whatever is trendy that week and buy it on all dips, FOMO-style, without one iota of concern for financials or management's integrity. 
Enter Cathie Wood. Wood is apparently doing some much needed "soul searching", with her flagship ARKK Innovation Fund continuing to falter heading into the final few weeks of 2021, according to a new report.
We have pointed out repeatedly over the last few weeks that ARKK has lagged the major indexes badly for 2021, with a delta between its performance and that of the NASDAQ nearing 40%.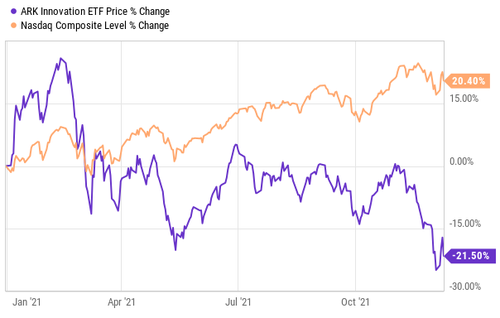 But it's not "underperformance", it's "soul searching", according to Wood. At least that's what she told Bloomberg late on Thursday. 
Ark Investment Management is "going through soul-searching" as its growth-focused funds fall out of favor amid expectations of tighter Federal Reserve policy, said founder Cathie Wood. 
In an interview with Bloomberg on Thursday, Wood also said: "I've never been in a market that is up -- has appreciated -- and our strategies are down."
Maybe that should tell you something, Cathie.
She continued: "When we go through a period like this, of course we are going through soul-searching, saying 'are we missing something?'" 
A better question might be: 'Are we missing everything?'.
But the soul searching hasn't slowed down ARK's PR efforts any. Wood didn't have any trouble taking to CNBC this week upon the launch of her 9th ETF - this one supposedly focused on ESG and "transparency".
We reported that Wood defended several of her...