100 People Feared Dead In Twister Outbreak As States Assess Damage
Update (Sunday 0858 ET): Rescue workers continued for the second straight day, searching through the wreckage after a series of tornadoes ripped through six states on Friday night, including Arkansas, Illinois, Kentucky, Mississippi, Missouri, and Tennessee. 
The death toll continues to rise. New figures via WaPo say about "100 people are feared to have been killed." This is up 30 from last night's 70. The counts are expected to increase today as search and rescue operations expand. 
In a televised speech on Saturday afternoon in Delaware, President Biden said he would do "everything he can do to help" the six states affected by Friday's night tornado outbreak. 
"This is likely to be one of the largest tornado outbreaks in our history," he said, adding that federal aid would be distributed to affected states. 
One of the most devastated areas is in the city of Mayfield, located in southwestern Kentucky. NBC News' Shawn Reynolds tweeted before and after satellite images (via Maxar) of one neighborhood that was completely leveled. 
Before 
After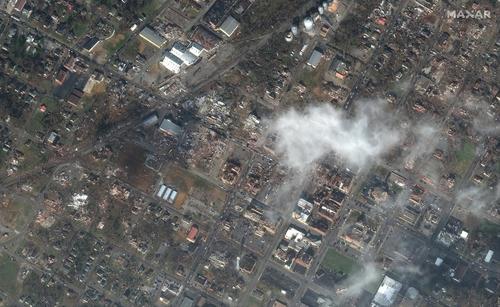 * * * 
Update (1812ET): Late Friday, deadly tornados touched down in at least six states -- Arkansas, Illinois, Kentucky, Missouri, Mississippi, and Tennessee.
The most intense damage I have found in #Mayfield. The entire path in the town is less than 2% of the total path length. Homes with only slabs remaining. #Tornado #wxtwitter pic.twitter.com/nXxoxNBVhY

— WxChasing- Brandon Clement (@bclemms) December 11, 2021
The worst devastation was in Kentucky, where 70 people were confirmed killed, and the death toll could jump to 100 in the coming hours, if not days. 
WATCH: Viral video...