European Gas Drops 18% As US Sends LNG Flotilla
Update (0918ET): European natural gas prices plunged Thursday after news that a liquefied natural gas (LNG) flotilla from the U.S. was headed to Europe. 
Data compiled by Bloomberg shows that ten vessels are headed to the fuel-starved continent while another 20 ships are crossing the Atlantic but have not determined their final destination. 
The news of the flotilla sent the benchmark Dutch front-month gas spiraling down 18% to 141 euros in Amsterdam, wiping out this week's gains.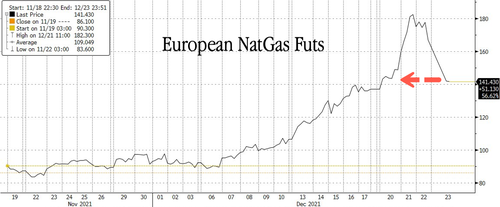 Plunging gas prices were a relief for European power customers. French power contracts tumbled 24% to 775 euros per megawatt-hour and German electricity fell 15% to 277 euros per megawatt-hour. 
The reason for the flotilla is that the European and U.S. natgas spread is the widest ever and well over a 15-year range. The hefty premium has made it worthwhile for commodity traders to take advantage of massive arbitrage opportunities.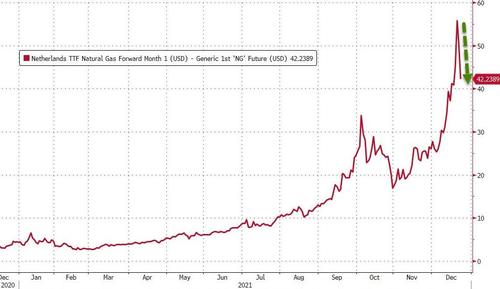 While the spread has plunged from the highest extreme ever, for context, European gas is equivalent to a $273 price for a barrel of crude oil... strongly suggesting that demand for U.S. oil products is building.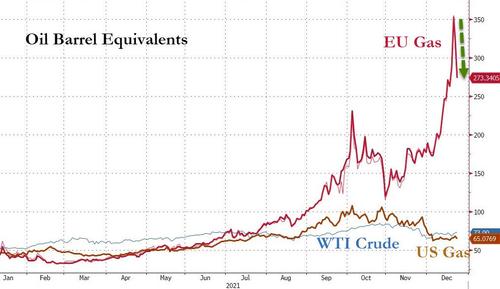 New weather models forecast milder temperatures for Northwest Europe also pressured gas prices.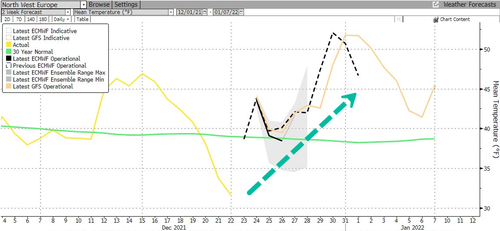 However, the opposite is happening in the U.S., where temps are expected to decline in January. 
For now, the market expects the flotilla of U.S. LNG cargo to offset lower gas flows from Russia. 
* * * 
Europe's consumption of liquefied natural gas (LNG) from the U.S. is about to significantly increase as a fleet of LNG carriers are en route to the fuel-starved continent.  
A record rally in European natural gas has put a hefty premium...