Russia Lays Out Security Demands At NATO HQ Amid 'Live Fire' Exercises Near Ukraine
Russia Lays Out Security Demands At NATO HQ Amid 'Live Fire' Exercises Near Ukraine
Coming off the initial day of talks between Russia and NATO wherein the US informed the Kremlin side that its central security demands are a "a non-starter", the continuing dialogue which moved to Brussels Wednesday began with little expectation for any breakthroughs.
Russian Deputy Foreign Minister Alexander Grushko went to NATO headquarters in Brussels where he was received by NATO Secretary-General Jens Stoltenberg. Despite new Russian military live-fire exercises which took place near the border on Tuesday, the Kremlin has reiterated that there are no plans for any offensive on Ukraine. 
Speaking from Moscow, Kremlin spokesman Dmitry Peskov tried to assure the good faith nature of its engaging with NATO this week. "We are not negotiating from a position of strength; there is not, and nor can there be, any place for ultimatums here," he said as the talks in Brussels were initiated Wednesday. This amid continued accusations that its troop build-up is all about forcing NATO to the table and forcing leverage to protect Moscow's red lines.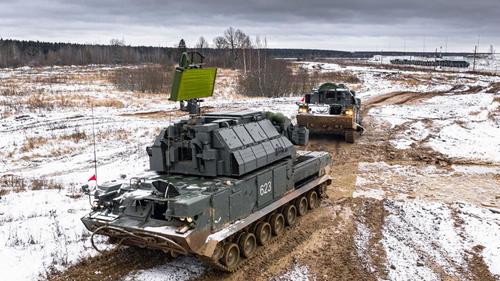 But he underscored that Russia must see that the West is taking its demands seriously and implementing positive action, according to Reuters. Also according to Reuters, the Russian side again emphasized its central request of no further NATO eastward expansion, which it's further seeking written security guarantees to ensure:
Grushko, a former Russian ambassador to NATO, has said Russia wants to avoid confrontation. His direct colleague Deputy Foreign Minister Sergei Ryabkov - who held talks with the United States in Geneva but who was not in Brussels...