Boeing Jumps On First Positive Cash Flow Since 2019 Despite Another Huge 787 Charge
It was another painful quarter for Boeing, which reported revenue and earnings both of which missed expectation amid mounting 787 Dreamliner losses which amounted to another $3.5 billion in pre-tax non-cash charge s (focused on actions required to resume deliveries) however a surprise boost in 737 Max output from 19 to 26 per month was welcome news as was the unexpected end of the company's chronic cash burn as Boeing reported its first positive free cash flow since early 2019.
First, this is what Boeing reported for Q4:
Revenue $14.79 billion, -3.2% q/q, -3.3% y/y, missing estimates $16.67 billion (Bloomberg Consensus)
Core loss per share of ($7.69), on the continued Dreamliner charges, which was an "improvement" from the whopping ($15.25) reported but clearly missed estimates of (0.42).
Remarkably, as the following table from Boeing's earnings release shows, pretty much every Y/Y comparison is NM, which should tell you all you need to know about the company's headline financials.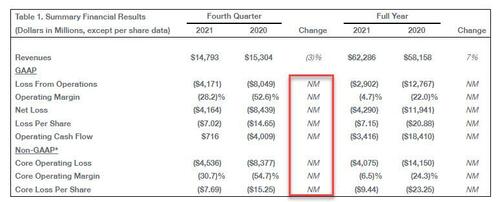 Looking at revenue we get the following disappointing picture:
Commercial Airplanes revenue $4.75 billion, +0.5% y/y, missing estimates $5.50 billion
Defense, Space & Security revenue $5.86 billion, -14% y/y, missing estimate $6.85 billion
Global Services revenue $4.29 billion, +15% y/y, beating estimate $4.18 billion
Boeing Capital operating earnings $7 million, missing the estimate $24.4 million
Total commercial planes deliveries 99, +68% y/y, missing the estimate 102.36
Backlog $377 billion, +3.9% y/y
Adding insult to injury, the planemaker reported $5.5 billion in total costs to cover rising factory and customer expenses for the Dreamliner. Boeing took...