Financial Cycle Down, War Cycle Up – Charles Nenner Warns
Via Greg Hunter's USAWatchdog.com,
Renowned geopolitical and financial cycle expert Charles Nenner says his cycle analysis shows the highs are in for the stock market, and it's downhill from here—way downhill.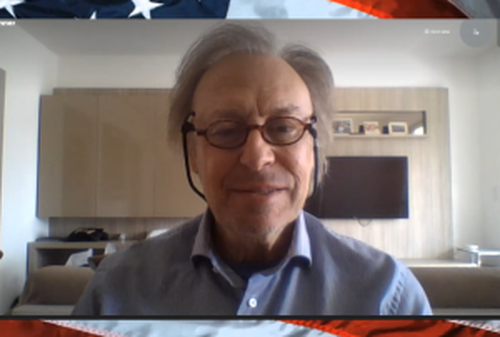 Nenner's analysis show major support was breached at the beginning of 2022.  Nenner explains, "If it closes below the trend line, you better get out of the stock market, and it did.  Now, in January, it has closed much lower that all the quarterly lows."
"  This is not making lows on a daily chart but a quarterly chart, and that is much more important than short term. . . . I did a report about how many stocks are in an uptrend and how many stocks are in a down trend.  I think 50% is already in a bear market. There are just a few stocks that are holding up the market, like . . . Microsoft, Apple, Google.  I looked into what the earnings are . . . it was clear they are never going to sustain those prices...

...I think 1% of the stocks are holding up 40% of the S&P.  Once they give in, the markets go down.  A lot of people have already lost a lot of money because most stocks do not perform anymore.  I think we are very close, and my target is still 5,000 (on the DOW).  It seems very farfetched, but it you just do the math...

...The media will not help you.  They will invite you if you talk about markets going up because the companies that want to advertise with them want to sell.  So, very few companies...