European Bonds Are Blowing Up As Peripheral Europe Runs "Panic-Pain" Playbook
While last week finally saw the stock panic migrate to US corporate bonds resulting in the first cracks in the previously calm facade credit...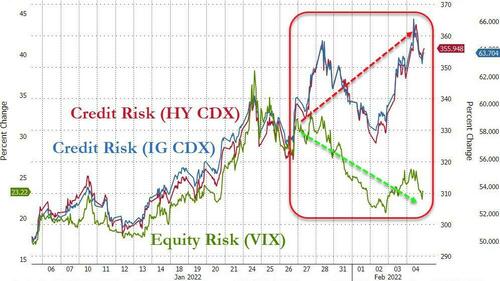 ... in Europe, a much more dangerous tidal wave is spreading from risk to peripheral spreads which are always far more susceptible to panic, and then pain. Today is no different.
As Bloomberg's Michael Read writes, Italian bonds are markedly wider to core this morning with the short end lagging on what is roughly 8bps of widening so far. Then you look at Greece... ouch. So far it's worth 20bps of widening to core at the 10y point, and it's a pretty fluid (but probably not very liquid) situation.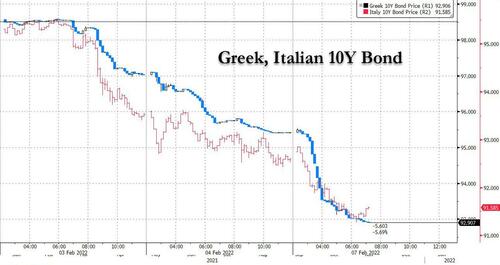 Why the collapse? We know several things for sure: peripheral Europe has benefited greatly from ECB emergency measures, and will continue to hurt as long as market is factoring in a faster removal of said measures as the ECB suggested last week and as various trail balloons after the central bank presser confirmed.
That said, Lagarde gets a chance to calm markets later today should she choose to. It was her press conference that slapped the rates space last week (given there was little market reaction to the statement). So, while she stressed that all comments are conditional, the market did what markets do: front-run the potential for a shift in the ECB's normalization timeline. Today's appearance before the European Parliament's Committee on Economic and Monetary Affairs might give us an indication of just how hawkish she meant to be.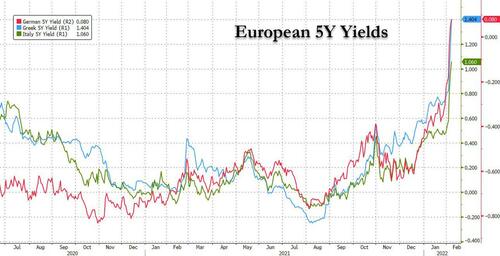 We've got a degree of cognitive dissonance at play (arguably because the market is so used to being precisely guided):  Thursday's statement was basically...