Futures Tumble After Deadly Escalation In Ukraine Crisis
Futures Tumble After Deadly Escalation In Ukraine Crisis
Any hope of de-escalation following the news late last night that Putin and Biden had agreed to a Macron-organized summit to pursue a diplomatic path out of the Ukraine crisis lasted only a few hours, and died a painful death around 3am Eastern time, after Kremlin spokesman Dmitry Peskov poured cold water on the summit progress when he said that  "It's premature to talk about any specific plans for organizing any kind of summits" and that there are no "concrete plans" for a summit yet. Subsequent news that a mortar shell had destroyed a Russian border checkpoint near Rostov - something which Ukraine's military denied doing - did not lift the already downbeat mood, but it was the news just after 7:40am ET that Russia had killed five "saboteurs" who tried to violate its border (and which Ukraine once again slammed as fake news) in an unconfirmed incident that would be the first direct clash with Ukrainian forces, that sent US equity futures tumbling 0.92% to session lows of 4,299.5, down some 90 points from overnight highs, and hit global risk assets while safe havens such as gold and the dollar spiked. The 1.5% decline in Nasdaq 100 futures outpaced that of S&P 500.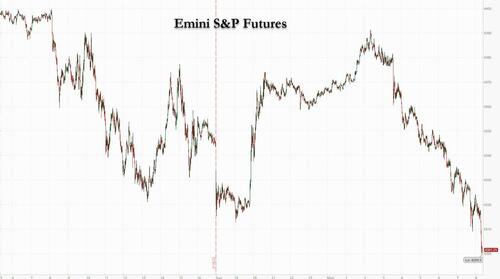 While US markets are closed for the President's Day holiday, equity futures are trading and have been following the news out of Ukraine tick for tick, as have European bourses, with the Euro Stoxx 600 index falling as much as 1.9%, to the lowest since Oct. 6 as investors digest latest developments around Ukraine tensions. 
And while US cash treasuries are also closed, Treasury futures are open and at last check were implying...