As Hedge Funds Dump Energy, Buffett Drills Deeper With Big Occidental Purchase
As we first noted on Monday in "Hedge Funds Liquidate Oil Positions At A Near-Record Pace Amid Extreme Volatility", and as Bloomberg writes today, "fund managers have shown signs of being cautious when it comes to energy stocks, the only major industry group in the S&P 500 with a positive return so far this year" and certainly today's best performing sector.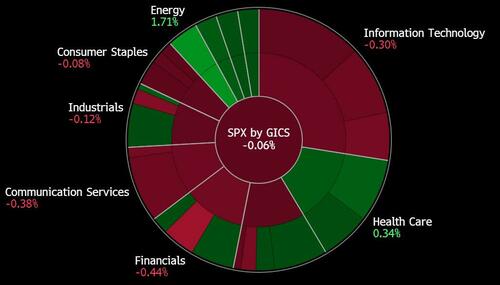 But that caution appears to be misplaced yet again (no surprise considering the "smart money" has been dead wrong about energy for the past two years), given the tectonic shift in the petroleum market caused by Russia's invasion of Ukraine and the ensuing sanctions.
And while most 22-year-old portfolio managers have that deer in headlight looks when given the choice of buying XOM or AAPL, look no further than the Oracle of Omaha himself, who likes to get greedy when others are being too fearful: Warren Buffett's Berkshire Hathaway disclosed that it raised its stake in Occidental Petroleum to 14.6% with purchases of 18.1 million more shares this week, according to a filing released late Wednesday.
Berkshire has drilled even deeper into Occidental's stock as surging oil prices buoy the U.S. shale driller. A few weeks ago, Berkshire disclosed that it had built up a common stock investment in the oil giant in addition to its preferred stock holding, a little less than two years after Berkshire exited what was then a modest common stock holding in Occidental. Buffett told CNBC in March 2021 that he started buying the stock after one of Occidental's earnings calls.

Occidental surged this month after Berkshire's earlier investment and as the war in Ukraine drove oil prices higher. The company hiked its dividend...