Bank Of Canada Hikes 50bps To Stem Inflation, Launches QT On April 25
As preview earlier (see below), moments ago the Bank of Canada indeed hiked rates by 50bps to 1%, as expected, the second rate hike in the post-covid era following a 25bps hike in March.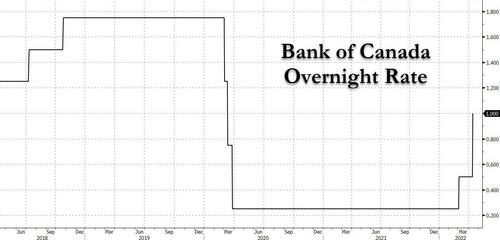 And, as also expected, the BOC announced that it is also ending reinvestment and will begin quantitative tightening (QT), effective April 25, adding that maturing bonds on the Bank's balance sheet will no longer be replaced and, as a result, the size of the balance sheet will decline over time, although there were no additional details.
In its statement, the BOC said that with the economy moving into excess demand and inflation persisting well above target, the Governing Council judges that interest rates will need to rise further. The bank said that "the timing and pace of further increases in the policy rate will be guided by the Bank's ongoing assessment of the economy and its commitment to achieving the 2% inflation target."
Courtesy of Newsquawk, here is a redline comparison of the current and last BOC statements: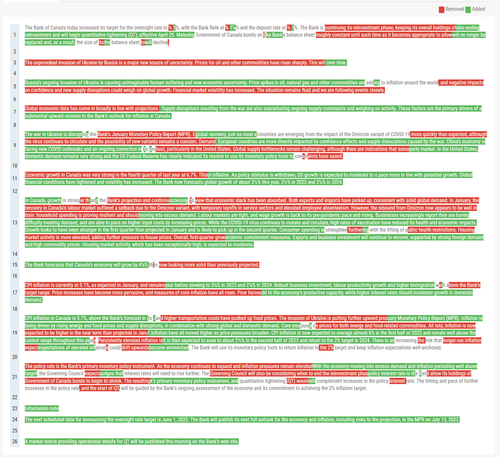 The BOC offered some perspectives on on the impact of the Ukraine war:
Price spikes in oil, natural gas and other commodities are adding to inflation around the world.
Supply disruptions resulting from the war are also exacerbating ongoing supply constraints and weighing on activity.
These factors are the primary drivers of a substantial upward revision to the Bank's outlook for inflation in Canada.
Of course, the BOC also discussed the Canadian economy, where "growth is strong and the economy is moving into excess demand." More details:...
Labour markets are tight, and wage growth is