Biden Urges "Basic Fairness" Over Roe Vs Wade As Protesters Clash Outside Supreme Court
Protests erupted outside the US Supreme Court overnight after a draft majority opinion overturning Roe v. Wade leaked to Politico.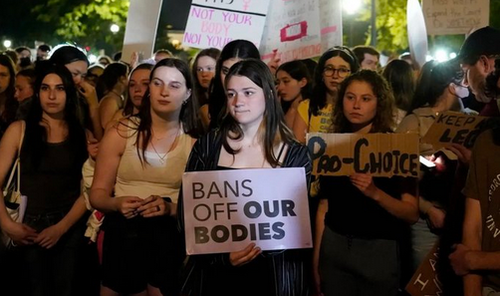 Barriers were erected outside the courthouse as hundreds gathered outside to protest the news, the Washington Post reports. A smaller group of pro-life protesters also showed up, chanting "Pro-choice, that's a lie. Babies never choose to die," while the larger group of pro-abortion protesters shouted "When abortion rights are under attack, what do we do? Stand up, fight back!"
Breaking: Protests are beginning to form outside the Supreme Court. This is just the beginning. #GOPHandmaidsTale
pic.twitter.com/8OYnmRxZyN

— MeidasTouch.com (@MeidasTouch) May 3, 2022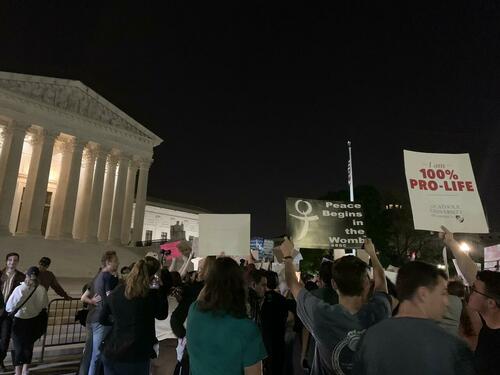 A couple hundred people, most in their 20s and 30s, are now outside SCOTUS. There's still not yet any organized protest or chanting, just folks standing around talking. Guy just whipped out a can of White Claw. pic.twitter.com/PCrXisy0Ys

— Natalie Allison (@natalie_allison) May 3, 2022
Really rich hearing the Left trot out this old chant after the past 2 years of them cheering on vaccine mandates. pic.twitter.com/6yhay9YWaw

— The Columbia Bugle 🇺🇸 (@ColumbiaBugle) May 3, 2022
A scuffle broke out shortly after midnight, as several 'masked protesters' tried to force the pro-life protesters to clear out. Neither group budged according to the report.
2nd clip from the scuffle, looks like someone in a suit gets clocked. pic.twitter.com/BATtQmE7Ms

— Doge (@IntelDoge) May 3, 2022
"The first line in the draft is that this is a moral issue....