US Gasoline Prices Hit Record And Peak Driving Season Has Yet To Come
US Gasoline Prices Hit Record And Peak Driving Season Has Yet To Come
U.S. retail gasoline and diesel prices at the pump hit a new record, according to the American Automobile Association (AAA). Soaring fuel prices come three weeks before the summer driving season begins, a challenge for the Biden administration and Federal Reserve as they combat the highest inflation in four decades. 
Across the board, fuel prices are at record highs: AAA's new data shows the average gasoline price at the pump hit $4.374 a gallon (as of Tuesday). The retail price of diesel fuel also hit a new record of $5.50.  
It turns out there's no easy solution for the Biden administration to halt rising fuel prices, even though they instructed a massive one million barrels per day release of the SPR through the midterm elections. Still, markets are forward-looking and have continued to rise as it turns out the White House has instructed the SPR to begin refilling operations in 2023.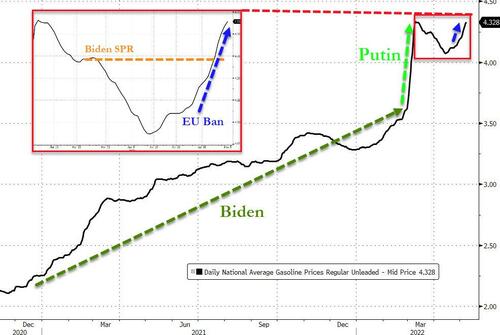 The SPR was supposed to subdue fuel prices ahead of the driving season, but that seems unavoidable. Energy is a key driver in inflation that will continue to crush consumer confidence into the summer. 
While high gas prices hit consumers, expensive diesel has battered the industrial economy because it's the lifeblood of the nation's transportation system. 
"Diesel is in everything ... the diesel price shock will be longer-lived because it will take time for systems to digest and pass through," Mark Finley, a fellow at Rice University's Baker Institute for Public Policy, told Bloomberg. 
Domestic demand remains elevated as gasoline and diesel inventories are some of the lowest in years or on record. East Coast diesel inventories recently hit a new record low. That...