EU Backs Ukraine's 'European Dream' As Putin Says Sanctions Cost Bloc $400BN, Warns Of Severe Fertilizer Shortage
Ukraine just got a big boost for its EU membership bid on Friday, with the 27-member nation bloc's executive giving full support for its candidate status. European Commission President Ursula von der Leyen announced for the first time that the commission recommends "that Ukraine is given candidate status. This is of course on the understanding that the country will carry out a number of further reforms."
She said further while speaking from Brussels, "In the view of the Commission, Ukraine has clearly demonstrated the country's aspiration and the country's determination to live up to European values and standards." Von der Leyen included further: "We all know that Ukrainians are ready to die for the European perspective. We want them to live with us the European dream."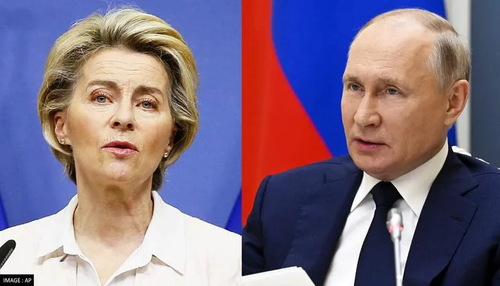 "Yes, Ukraine should be welcomed as a candidate country — this is based on the understanding that good work has been done but important work also remains to be done," von der Leyen said.
The day prior, on Thursday, French President Emmanuel Macron, German Chancellor Olaf Scholz and Italian Prime Minister Mario Draghi traveled to Kiev by train where they delivered a unified and "strong signal of support" to Ukraine amid the Russian invasion. They publicly backed Ukraine's path to the EU, urging "immediate EU candidate status."
Currently France holds the rotating EU presidency. It's leader Macron said while in Kiev of EU candidacy status, "This status will be accompanied by a roadmap and will also involve taking into account the situation in the Balkans and the neighboring area, notably Moldova."
While putting forward Modova, absent was any mention of Georgia, which is not...