Euro Surges On Report ECB Looking "Closely" At 50bps Rate Hike As Lagarde Rushes To Complete "Italian Bond Purchase" Mechanism
One month after the Fed leaked a last minute 75bps rate cut via the WSJ during the central bank's "quiet period" and which proved accurate when the Fed followed through with its biggest rate hike since 1994, earlier today European traders enjoyed a similar drill when first Reuters and then Bloomberg reported a "people familiar with the situation" story that on the same day Russia is expected to resume gas flows via Nord Stream 1 (but won't), the European Central Bank is considering raising interest rates on Thursday by 50bps, or double the quarter-point it outlined just last month because of the worsening inflation backdrop, as the ECB lifts off from its record low -0.50% deposit rate.
While unlikely, as such a move would represent a credibility-crushing deviation from guidance that the majority of Governing Council members have stuck to since it was laid out at the June 9 policy meeting, the market certainly was freaked out by this trial balloon which most likely was intended to push the Euro higher, and sure enough it achieved its goal: the EURUSD surged 1.1%, or about 100pips, rising above 1.02 after plumbing below parity late last week.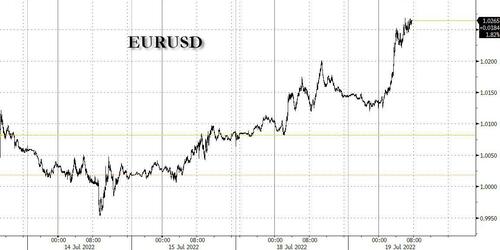 Of course, if the ECB disappoints and hikes "only" 25bps on Thursday, expect the entire move to reverse lower. And if there is no gas flowing in the NS1 pipeline on that day, we expect the EURUSD to hit a fresh two decade low.
Meanwhile, money markets see a 40% probability of a half-point hike this week compared with 20% odds on Monday. Still, as shown below, as of this moment the only fully-priced in 50bps rate hike...