'The View' Apologizes To Turning Point USA After Lawsuit Threat
Authored by Caden Pearson via The Epoch Times,
ABC's "The View" apologized on air Wednesday to leading conservative youth organization Turning Point USA (TPUSA) after it threatened to sue over the co-hosts' comments linking the group to so-called neo-Nazis.
Co-host Sarah Haines read a statement on air correcting her co-hosts' remarks made during the July 25 show to make clear that so-called neo-Nazi demonstrators were not part of TPUSA's Florida Student Action Summit in Tampa.
"We want to make clear that these demonstrators were gathered outside the event and that they were not invited or endorsed by Turning Point USA," Haines said.
"A Turning Point USA spokesman said the group '100 percent condemns those ideologies,' and said Turning Point USA security tried to remove the neo-Nazis from the area but could not because they were on public property.
"Also, Turning Point USA wanted us to clarify that this was a Turning Point USA summit and not a Republican Party event. So we apologize for anything we said that may have been unclear on these points," she said.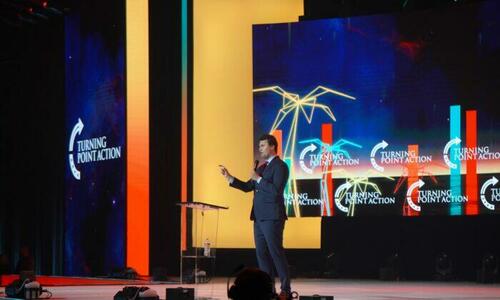 The Remarks
The apology came after TPUSA threatened to the sue over remarks made on air by the show's co-hosts two days earlier.
On Monday, co-host Joy Behar told viewers that "neo-Nazis were out there in the front of the conference with antisemitic slurs and, you know, the Nazi swastika, and a picture of a so-called Jewish person with exaggerated features, just like Goebbels did during the Third Reich. It's the same thing, right out of that same playbook."
Later, Haines said she had a "legal note" and read a disclaimer informing viewers that...