Biden Nemesis Exxon Reports Record Earnings As Company Prints $20 Billion In Cash
The Biden administration will be terribly vexed to learn that the one company it hates the most, Exxon (we are confident the sentiment is mutual) reported record Q2 earnings (largely thanks to Biden's SPR release which has proven to be a risk-free arb black gold mine for the company) which smashed expectations and also reiterated guidance while maintaining its generous $30 billion buyback program. The biggest North American oil explorer followed European giants Shell Plc and TotalEnergies, as well as US peer Chevron in disclosing unprecedented results. 
Here are the Q2 details for the company which is reaping the rewards from surging commodity prices and the Biden admin's destructive "green energy" policies that have sent gas prices to record highs.
Net income reached $17.9 billion, surpassing the previous record set in 2008.
Adjusted EPS $4.14, beating the estimate $3.98 and about 4x more than the $1.10 year ago
Operating cash flow in Q2 was a record $20 billion; on a YTD basis, Free Cash Flow in H1 has more than doubled Y/Y to $27.7 bilion.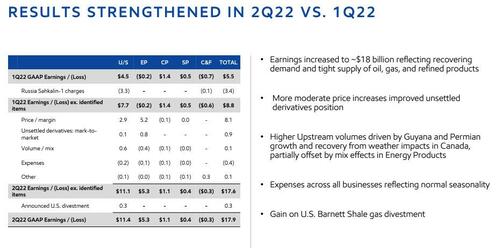 Going down the list:
Refinery throughput 3,988 KBD
Total revenues & other income $115.68 billion, estimate $119.4 billion
Upstream production 3,732 koebd, estimate 3,720 koebd
Refinery throughput 3,988 KBD, estimate 4,068 KBD
Crude oil, NGL, bitumen and synthetic oil production 2,298 KBD, estimate 2,358 KBD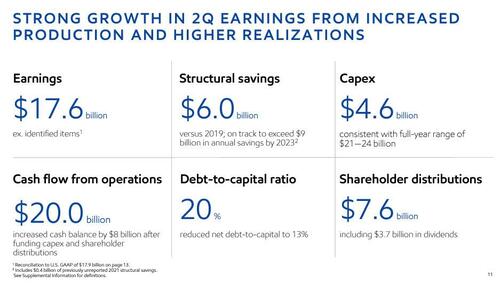 Some more financial highlights:...
Generated earnings of $17.9 billion (vs $5.5 billion in the first quarter of 2022) and cash flow from operating activities of $20 billion in second-quarter 2022 as a result of increased production, higher realizations and margins, and aggressive cost control