Ceasefire Holds In Gaza After 44 Killed In 3-Day Israeli Bombardment
Following the major flare-up in fighting between Israel and Palestinian Islamic Jihad (PIJ), which saw Israel launch days of airstrikes on Gaza starting Friday, a delicate ceasefire appears to be holding Monday.
"An Egypt-brokered ceasefire between Israel and Palestinian factions came into effect at 11:30pm local time (8:30pm GMT) on Sunday," Middle East Eye reports. "Israel's assault on Gaza, which began on Friday, has left 44 Palestinians dead, including 15 children, and injured hundreds more."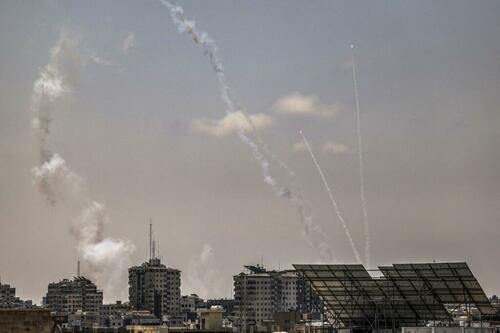 On the Israeli side, three civilians have been reported injured by shrapnel from rockets fired from the Gaza Strip, after hundreds were launched by PIJ and Hamas through the weekend.
"Twelve hours in, the ceasefire appeared to holding, as residents of the besieged Palestinian enclave began to clear rubble and continued to mourn the dead," Middle East Eye continues.
The Israel Defense Forces (IDF) said that over 350 rockets were launched from the strip within merely the first two days of the conflict. Israel's response, dubbed 'Operation Breaking Dawn', reportedly took out at least two top Islamic Jihad commanders. 
By the time Sunday's ceasefire took effect, the IDF updated its tally to a whopping 1,100+ rockets fired by PIJ over the prior three days. Many of these fell short, landing in Gaza itself, but others were intercepted by the Iron Dome defense system. Central Israel came under threat along with southern towns, causing emergency alarms to blare in Tel Aviv through much of the weekend.
Like with past Israeli air assaults on the densely populated Gaza Strip, the past 48 hours have seen widespread reports of the deaths of small children as well as women....