Iran's General Soleimani Ramping Up Efforts To Counter Trump In Iraq And Syria
Authored by Elijah Magnier, Middle East based chief international war correspondent for Al Rai Media
"Trump will pull out US forces in 30 days"… "Trump won't withdraw now"… "Trump will pull out from Syria in four months"… "The US forces began withdrawing military equipment but not the personnel"… "Trump will maintain a 20 mile buffer zone in Syria"…All these contradictory announcements have come from the White House in the last month or so, indicating some combination of the current occupant of the White House's lack of experience in foreign policy, or lack of control of his own administration.
Nobody in the Middle East believes Trump. Only President Erdogan confirmed the serious intention of the US to withdraw from Syria but was knocked down by Trump's threat to "cripple the Turkish economy if Turkey attacks the Kurds". But soon after Trump's threat to Erdogan, he again changed his mind and suddenly announced a new plan for a buffer zone "to protect the Kurds", Turkey's worse enemies in the Levant. Trump is signaling a high degree of confusion about his intention to stay or leave Syria.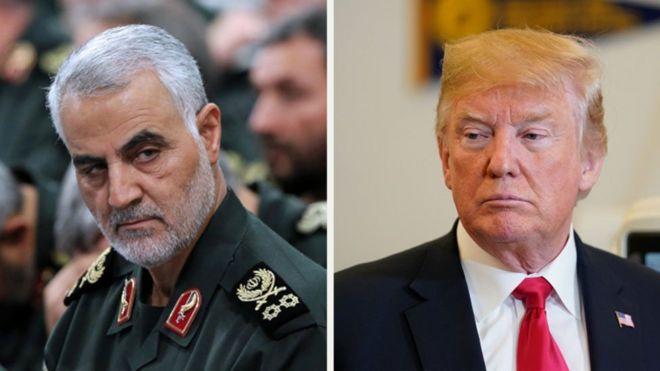 It doesn't matter if the world doesn't understand what Trump's plan is. There is no point in trying to analyse and predict the next step because Trump himself doesn't seem to know what to do next. He wakes up with one decision and seems to change it hours later or the following day.
Nevertheless, Trump's continuously changing plans are not preventing his adversary the Iranian General Qassem Soleimani — the head of the Iranian Revolutionary Guard Corps in the al Quds Brigade which perceives itself responsible for supporting all movements of the oppressed peoples in the world, mainly the Lebanese Hezbollah, Iraqi, Palestinian and Afghan groups, but others as well — from making plans to counter Trump in Syria and Iraq.
Well informed sources say "Soleimani is holding meetings with various of his allies' groups in the Middle East to stand against US forces and push them away from Iraq and Syria". According to these sources, neither Iran nor Russia believe in Trump's declared intention to withdraw and both are convinced that at least some US forces will remain in the Levant.
Soleimani is planning to move more aggressively with his allies once the last ISIS stronghold east of the Euphrates is reconquered. ISIS maintains an area of around 15 sq km with several villages on the Euphrates and is currently under attack by Kurdish forces supported by the coalition.
President Bashar al-Assad agreed with the Iraqi National Security Advisor Faleh al-Fayyad to reactivate coordination of tribal groups in northeast Syria with Iraqi forces. "Assad gave the green light to Iraq to coordinate with the Arab tribes in Syria and to push Iraqi security forces into Syria when and if needed to end ISIS control if the US is not willing to finishing the job quickly"....