Authored by Sven Henrich via NorthmanTrader.com,
The bulls are back. $SPX up nearly 8% in January and nearly 14% off of the December lows. What slowing global growth? What reduced earnings expectations? Trade wars? Who cares. It'll all sort itself out, all that matters was the Fed caving in spectacular fashion laying the foundation for the big bull case. The central bank 2 step is back: Dovish + dovish = nothing but higher prices. The lows are in, what else can I buy? This pretty much sums up current sentiment.
And so goes the familiar script during emerging bear markets, a general sense of relief that the lows are in and a return of optimism and greed after an aggressive counter rally following an initial scary drop. Long forgotten are the December lows after a torrent consecutive 6 weeks of higher prices.
While indeed a renewed fully dovish Fed may be all that's needed to keep 2019 bullish (after all this playbook has worked for the past 10 years) there is evidence that this rally may turn out to be a big fat bull trap.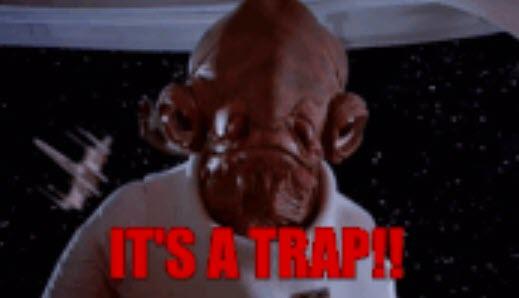 And it's not a single data point, but rather it's a confluent set of factors that are acting in concert that give credence to this possibility.
Let me walk you through the factors step by step.
Firstly here's the big monthly chart of everything as I call it which includes $SPX, some basic technical elements, but also a price chart of the 10 year yield ($TNX) and the unemployment rate: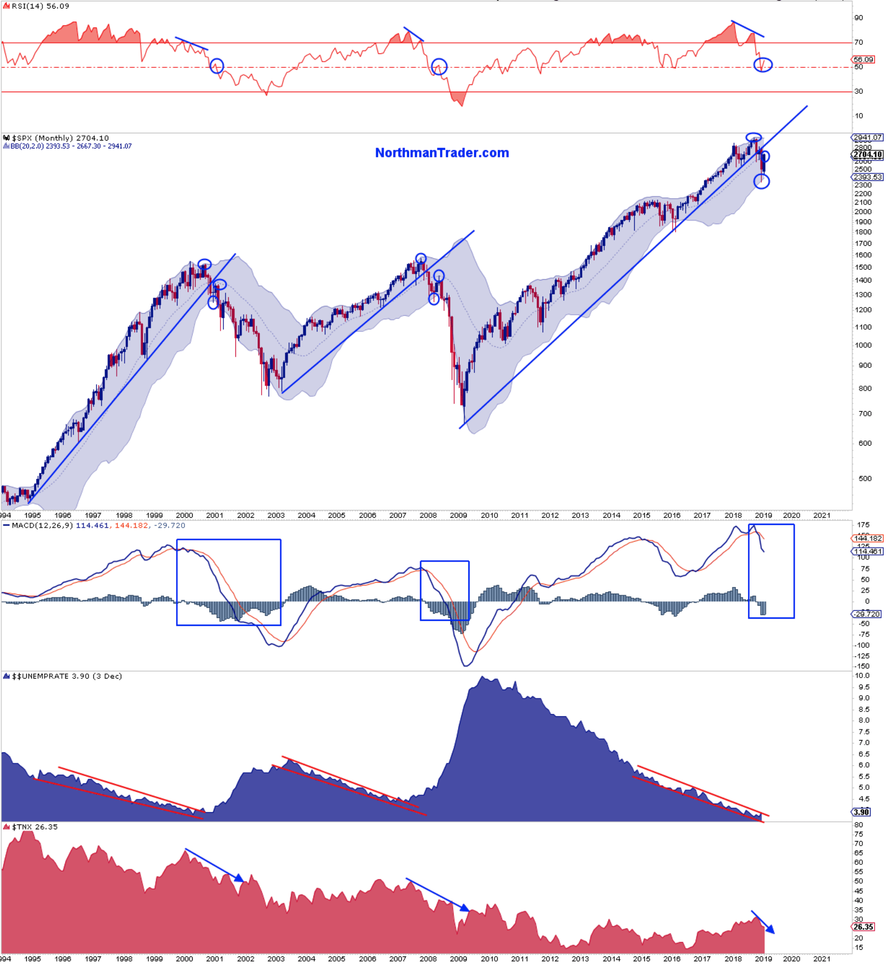 Note the common and concurrent elements of the previous two big market tops (2000 & 2007) versus now:
New market highs tagging the upper monthly Bollinger band on a monthly negative RSI (relative strength) divergence – check

A steep correction off the highs that breaks a multi-year trend line – check

A turning of the monthly MACD toward south and the histogram to negative – check

A correction that transverses all the way from the upper monthly Bollinger band to the lower monthly Bollinger band before bouncing – check

A counter rally that moves all the way from the lower Bollinger Band to the middle Bollinger band, the 20MA – check

A counter rally that produces a bump in the RSI around the middle zone alleviating oversold conditions – check

All these events occurring following an extended trend of lower unemployment, signaling the coming end of a business cycle – check

All these events coinciding with a reversal in yields – check

All these events coinciding with a Federal Reserve suddenly halting its rate hike cycle –...