In its latest (surprisingly short at just 14 pages) annual letter released at 8am on Saturday, Warren Buffett's Berkshire Hathaway shocked investors when it announced that Q4 net earnings plunged to a $25.4 billion loss, or ($15,457) per share, from a $32.6 billion profit, or $19,790 per share a year prior, due to an unexpected write-down at Kraft Heinz and unrealized investment losses even as revenues increased from $58.8 billion to $63.7 billion for the fourth quarter, while operating earnings increased from $3.33 billion to $5.72 billion due to increased earnings from Berkshire's railroads, energy business and other segments.

For the full year, Berkshire earned just $4.0 billion in GAAP profits, down 90% from $45 billion the previous year, prompting the WSJ to describe this as "one of Buffett's worst years ever." Separately, in 2018 revenue increased 3% to $247.8 billion, while operating earnings hit a record $24.8 billion. As a reminder, Berkshire's 2017 earnings soared in the fourth quarter of 2017 due to changes in the U.S. tax law that lowered Berkshire's deferred tax obligations for stock investments that it currently holds.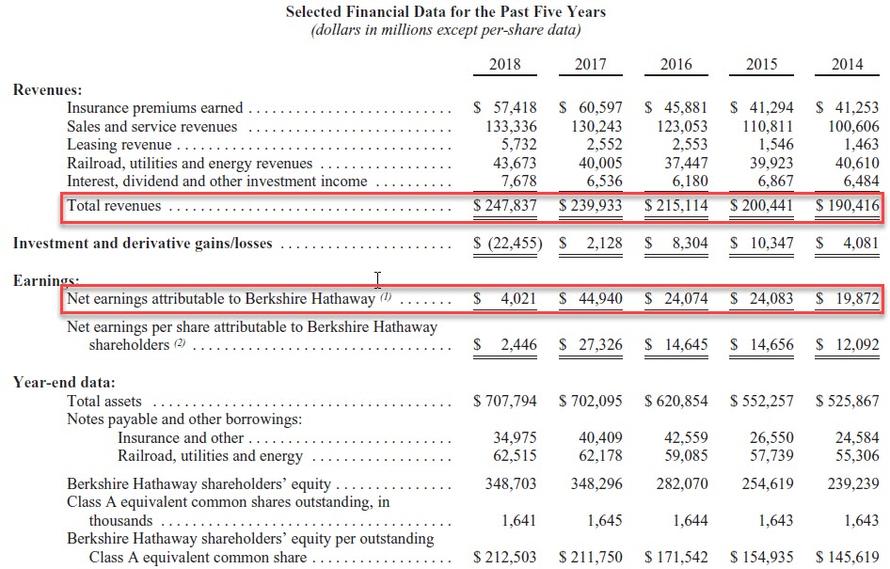 What was behind the company's sharp drop in 2018 earnings, and the massive Q4 net loss? Think of it as the quarter-end marking-to-market of Buffett's massive equity holdings, coupled with the "unexpected" write-down at Kraft Heinz .
As Buffett explains in his letter, the components of that $4.0 billion full year net earnings figure were $24.8 billion in operating earnings, a $3.0 billion non-cash loss from an impairment of intangible assets (arising from Berkshire's equity interest in Kraft Heinz which as duly noted here before plunged to an all time low on Friday after a perfect storm of negative news), $2.8 billion in realized capital gains from the sale of investment securities and most notably a $20.6 billion loss from a reduction in the amount of unrealized capital gains that existed in our investment holdings. Similarly, for the eye-popping $25 billion net loss in the fourth quarter, it was driven by $27.6 billion in unrealized losses from the investment portfolio.
Why is this unrealized loss appearing now: as Buffett explains, "a new GAAP rule requires us to include that last item in  earnings. As I emphasized in the 2017 annual report, neither Berkshire's Vice Chairman, Charlie Munger, nor I believe that rule to be sensible. Rather, both of us have consistently thought that at Berkshire this mark-to-market change would produce what I described as "wild and capricious swings in our bottom line."
A note on Kraft Heinz: the company contributed a $2.7 billion loss to Berkshire in 2018, compared to adding $2.9 billion to its earnings in 2017; Kraft Heinz on Thursday wrote down the value of some of its biggest brands, disclosed an investigation by federal securities regulators and slashed its dividend, sending its stock tumbling.
Lashing...