One day after we reported that Bitcoin futures traded above $10,000 as crypto derivatives markets "are gearing up towards another big weekend as bitcoin approaches $10k", not only did the spot price surge above $10,000 but just a few hours later - in a vivid replay of December 2017 - the cryptocurrency promptly took out $11,000 as well.
"The bounce back of Bitcoin has been fairly extraordinary," said George McDonaugh, chief executive and co-founder of London-based blockchain and cryptocurrency investment firm KR1 Plc.

"Money didn't leave the asset behind, it just sat on the sidelines waiting to get back in."
Cryptos are a sea of green this morning after a big overnight session...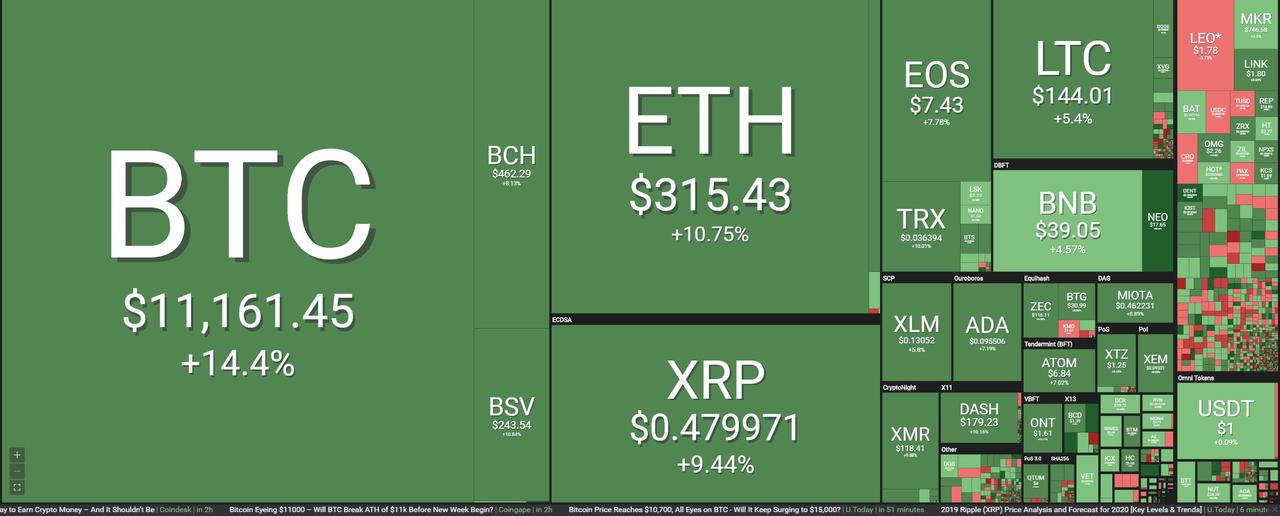 Volume spiked as Bitcoin surged past $10k...and accelerated above $11k - the highest since March 2018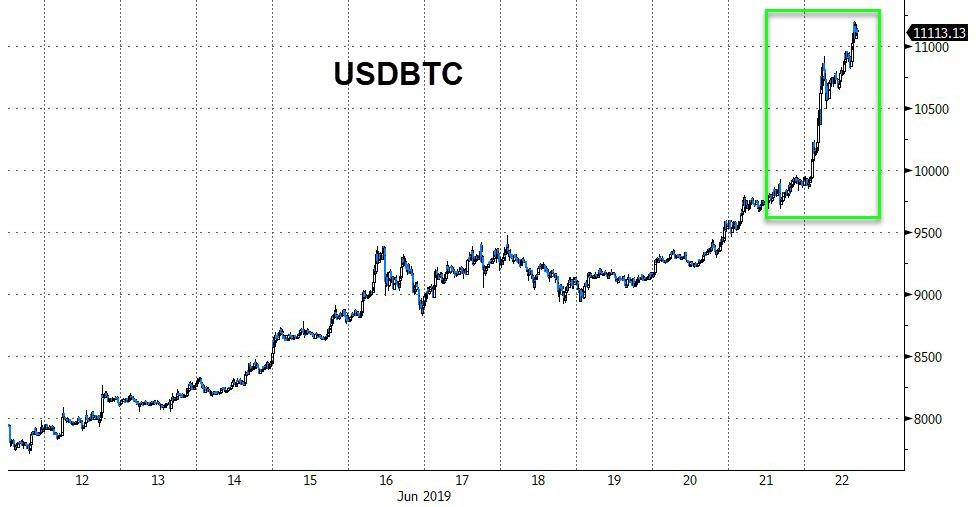 Ethereum also spiked above $300...the highest since Aug 2018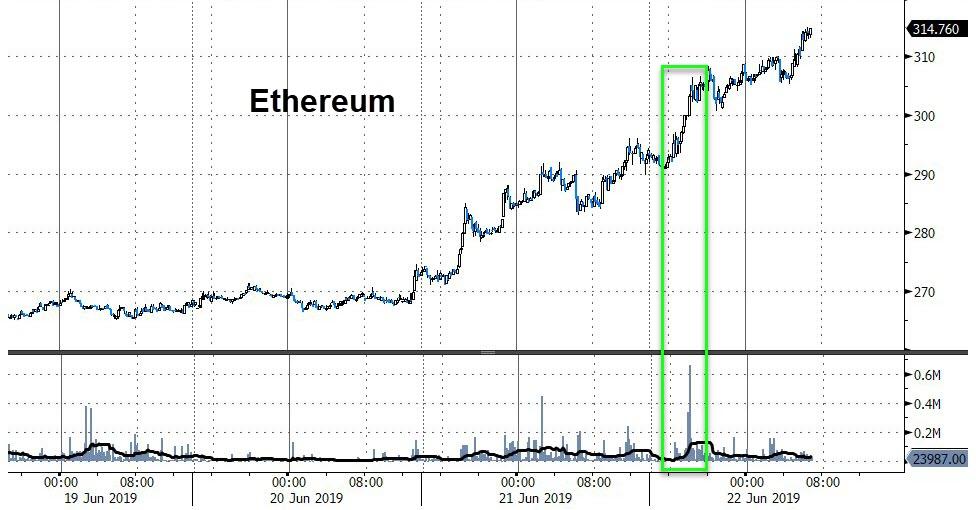 In contrast with last year, Bloomberg notes that there are now signs of renewed mainstream interest in cryptocurrencies and the underlying blockchain technology, most prominently Facebook's Libra. The social-media giant is working with a broad group of partners from Visa to Uber to develop the system, which has already attracted attention and criticism from politicians raising privacy and security concerns.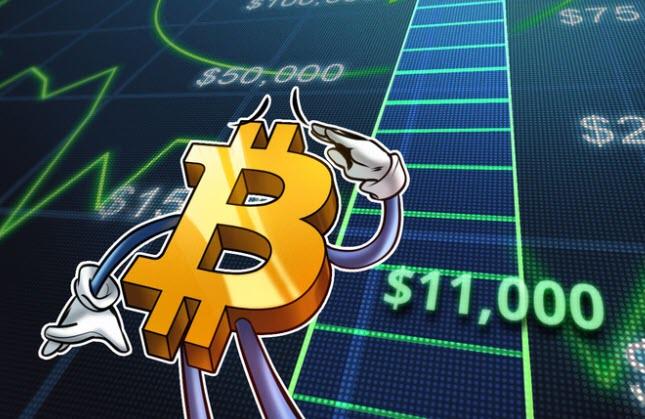 image courtesy of CoinTelegraph
This lifts Crypto's total market cap above $333 billion, the highest since June 2018...

As CryptoSlate.com's Priyeshu Garg notes, while many were quick to dismiss the effect Libra could have on the broader crypto market, it seems that the highly-anticipated digital asset is already making waves throughout the industry. Despite the problems it faces -which include centralization and lack of privacy - Libra was still celebrated by some in the crypto community.
Garry Tan, the managing partner at Initialized Capital, said that Libra's launch was a "big day" for the crypto industry, as it has the potential to transform the crypto market. Tan pointed out that Facebook has 2.4 billion users, while WhatsApp, the messaging giant owned by Facebook, has over 1.5 billion. Recent studies estimate the number of crypto users worldwide to be roughly 35 million.
That means that a large percentage of those users could get exposure to other cryptocurrencies through Libra, drastically increasing the number of crypto users worldwide.
As we noted last week, the  interest "is mostly institutions now."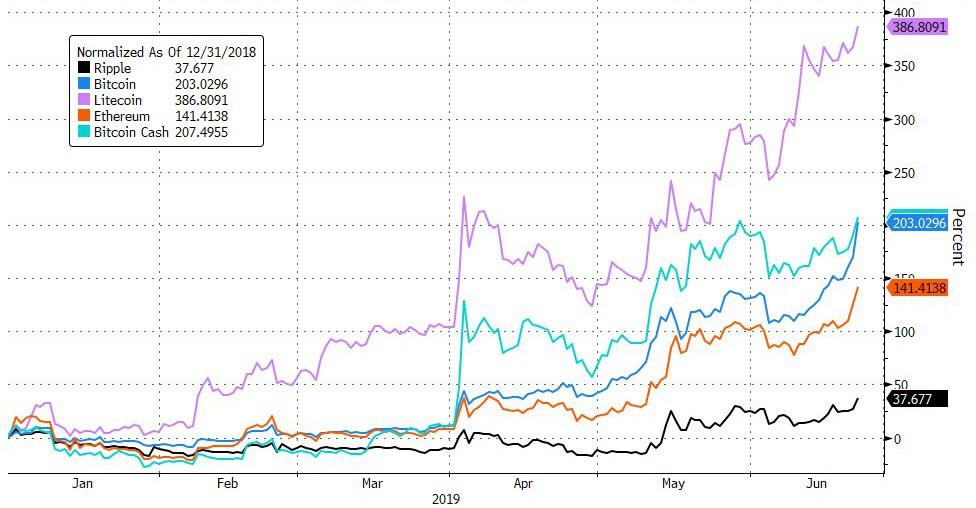 While a substantial part of the increase in volumes in dollar terms reflects an increase in the market value of bitcoin and other crypto currencies, the volumes in bitcoin terms are also significantly above their previous peaks.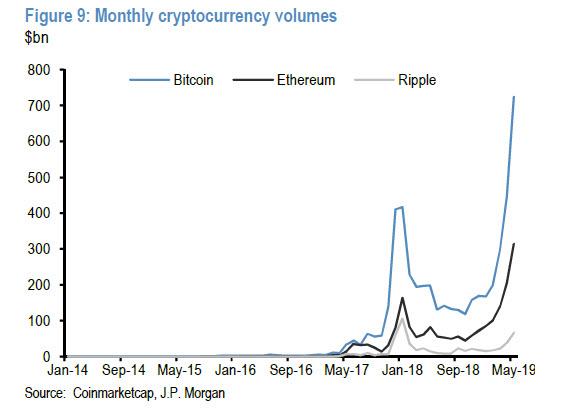 According to JPMorgan,
in the two years since bitcoin's last major spike in 2017 the "market structure has likely changed considerably... with a greater influence from institutional investors."
This also means that whereas bitcoin's historic surge to its all time high of $20,000 in December 2017...