Authored by Lance Roberts via RealInvestmentAdvice.com,
Monday and Tuesday were indeed a bit sloppy, as shown below, but "fireworks" started on Wednesday as Jerome Powell said everything possible to ensure Wall Street a "rate cut" in July without actually saying so.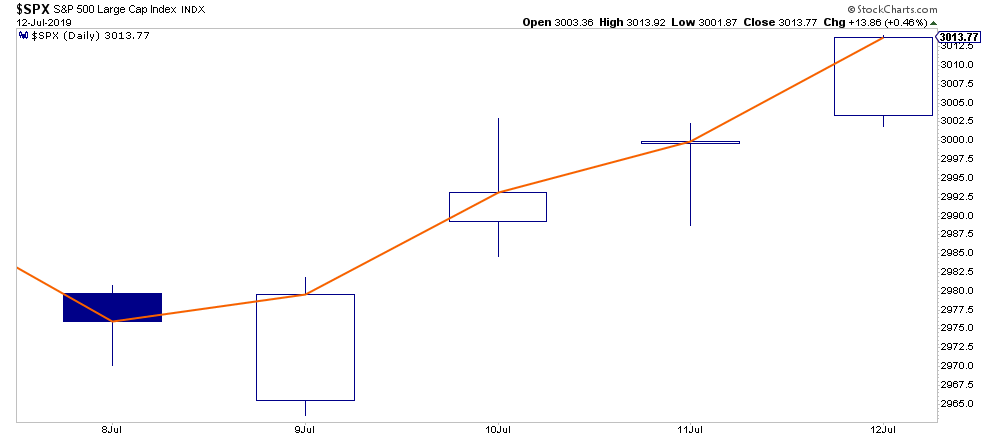 As we will discuss in a moment, almost 18-months after I originally discussed it, the market finally cleared the psychological level of 3000.
That is the good news.
The "not-so-good" news is the market continues to rally into a more extreme overbought condition with a rather extreme deviation above the 200-dma. Also, the negative-divergences in indicators which suggest further upside to the current rally may be limited. In particular, the divergence between small-cap and large-cap performance is typical of periods leading to corrections.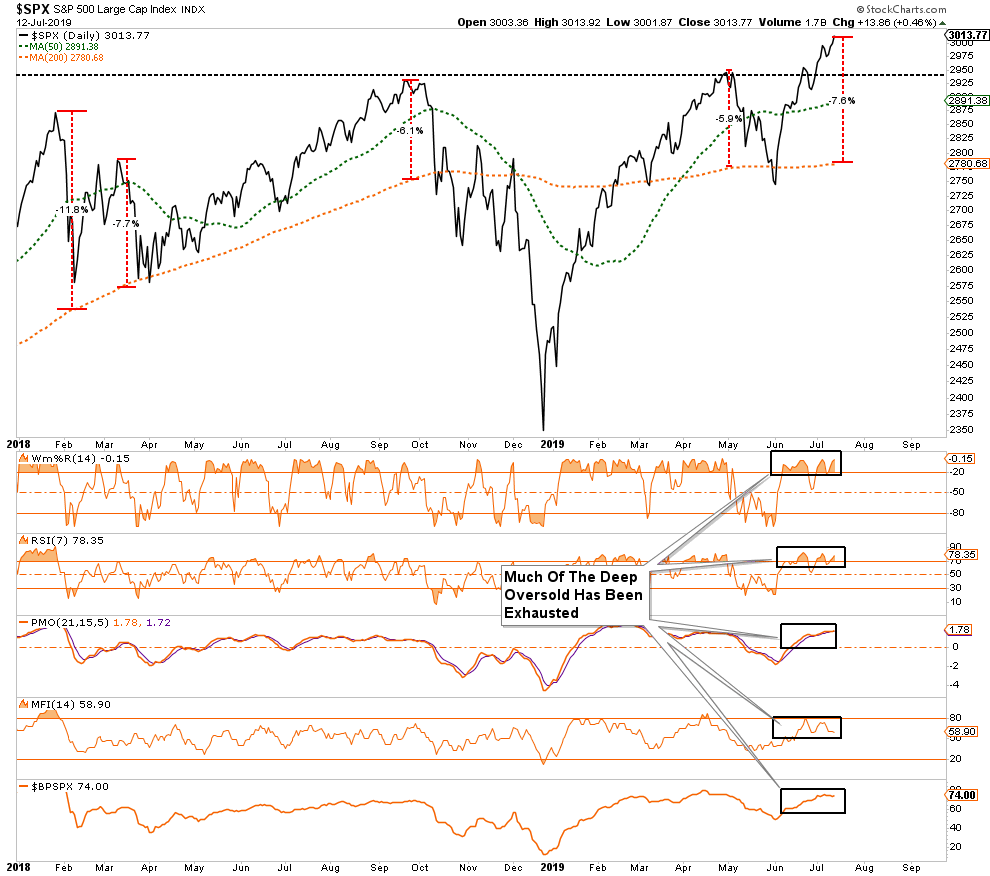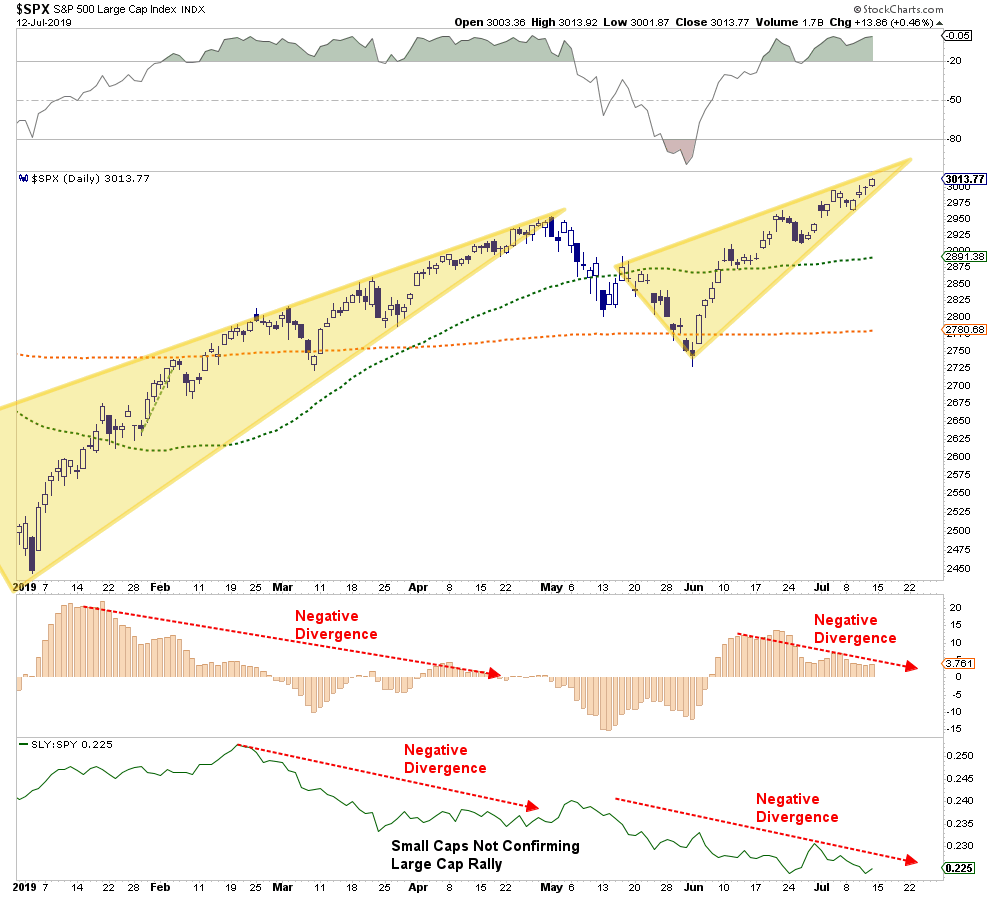 Also, since the September peak in the market, every other major index is lagging the performance of the S&P 500 index which suggests a narrower rally.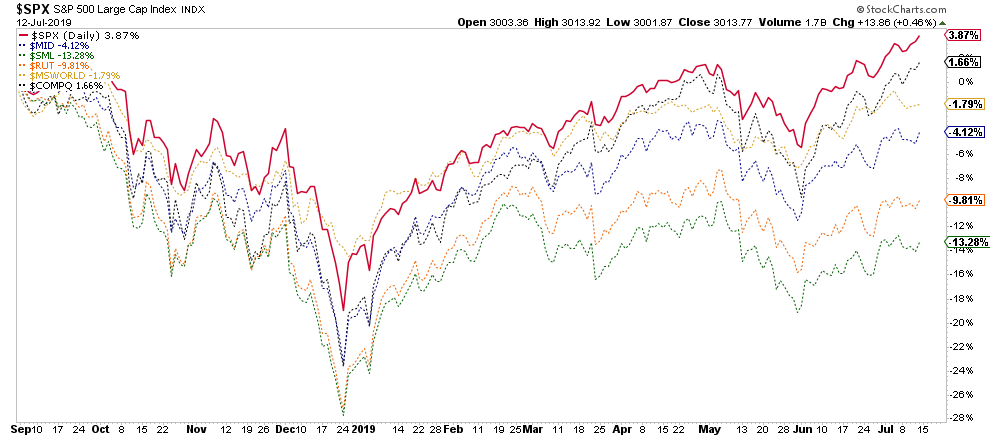 With that said, the markets are on a "buy signal," which suggests further upside is likely in the near-term. This is why we continue to maintain our long-equity bias for now.
However, once we get past the end of the month, and assuming the Fed does indeed cut rates and no "trade deal" with China, the markets will return their focus to economics and earnings. As we said last week, such continues to suggest the August/September time frame for a larger corrective cycle is still in play.
Bonds Retreat
My colleague Patrick Hill asked me to address the retreat in bond prices over the last week or so. While many are assigning a variety of reasons for the recent reversal in rates including a resurgence on inflationary pressures, Central Bank demands, to a lack of buying by foreigners, I think the reason is much more simplistic.
Ever since rates spiked up to 3.25% at the beginning of 2018, we have repeatedly been discussing why rates would fall, and economic weakness and deflation would be the driver. Such has indeed been the case, and our long-bets on bonds have paid off nicely.
However, bonds are also a "safety" trade in times of uncertainty. The rotation from "risk" to "safety" has been THE trade since September of last year and rates, as I have discussed over the last several weeks, had become "egregiously" overbought. A correction was inevitable as money began chasing equities on hopes of a Fed rate cut. 
However, as shown below, we need to keep the recent reversal in the context of the broader move. It is kind of hard to spot.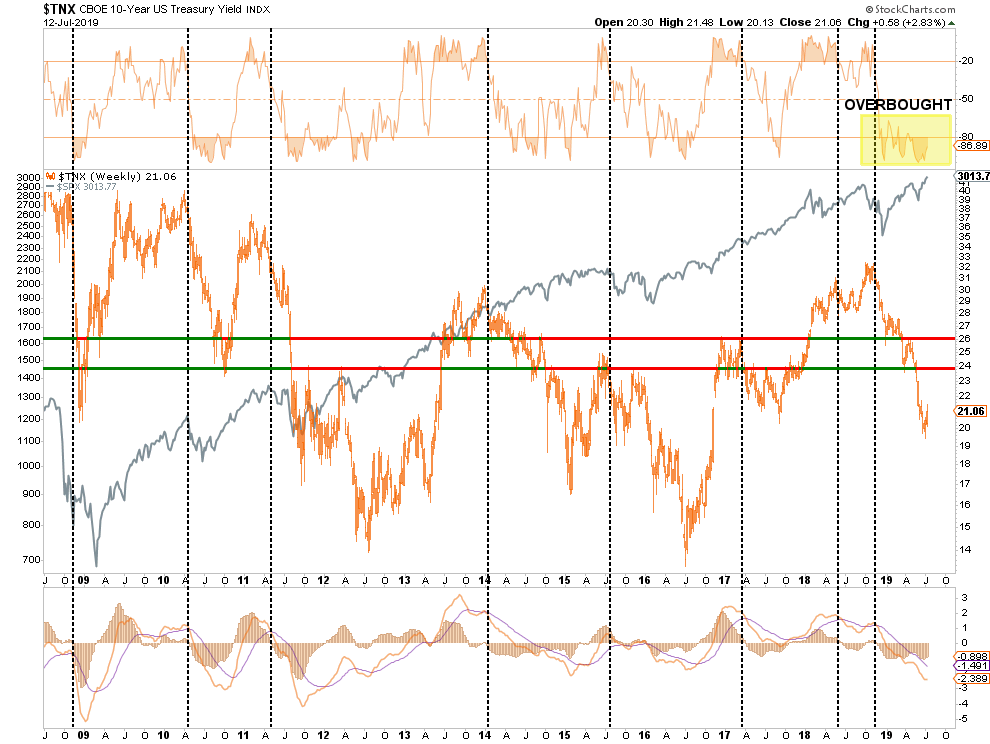 This sell-off in bonds WILL provide another terrific buying opportunity most likely by the end of July. Look for rates to retrace back to previous resistance between 2.4% to 2.6%. Also, it is advisable to increase the duration of bond holdings for the yield curve steepening, which will occur as the economy slips closer to the...