Authored by Michael Snyder via The Economic Collapse blog,
I know that this headline is alarming, but it is actually a direct quote from a notice that was recently posted in a Kroger supermarket.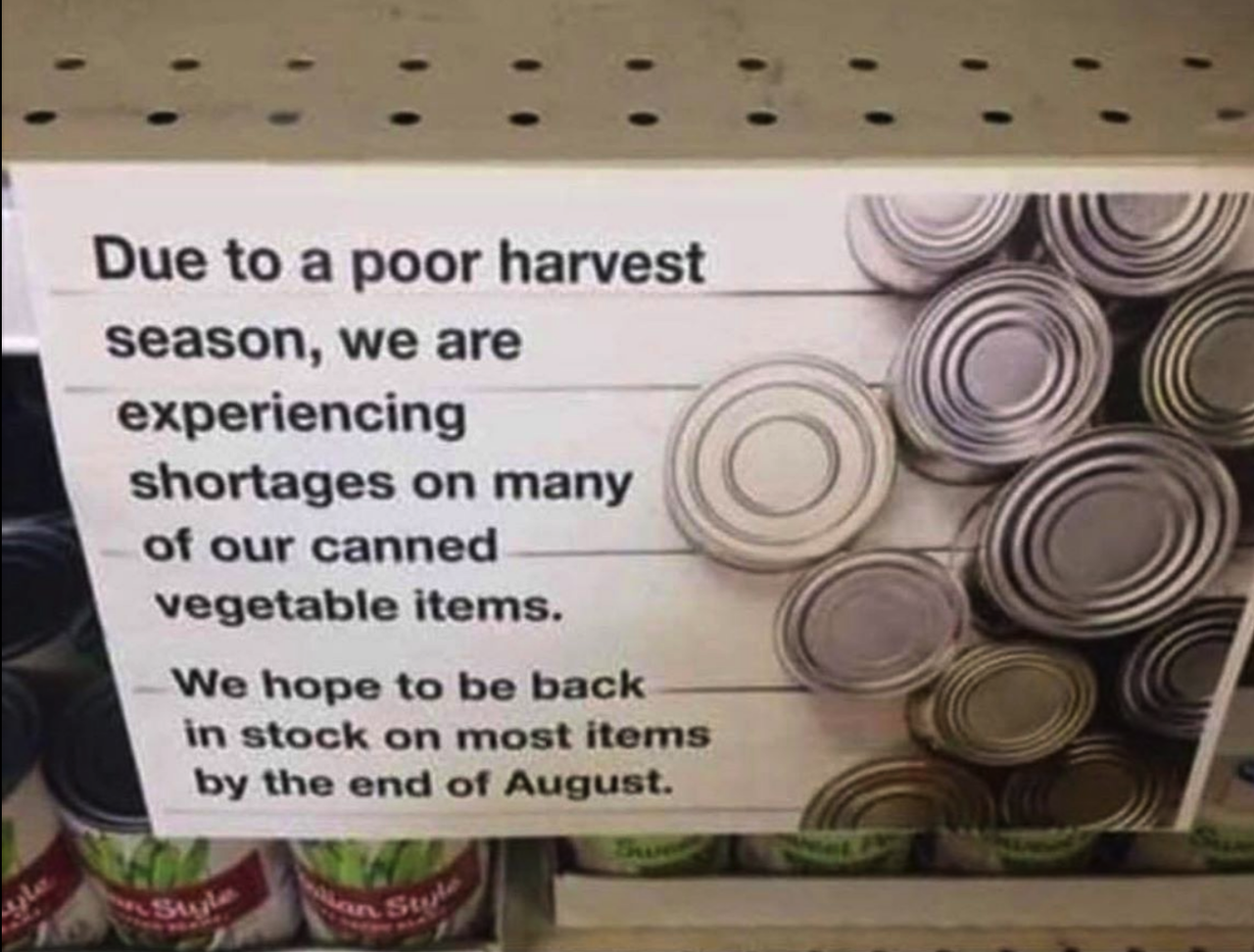 And as you will see below, similar notices are being posted in the canned vegetable sections of Wal-Mart stores nationwide.  I would encourage you to examine the evidence in this article very carefully and to come to your own conclusions about what is happening.  At this moment, social media is buzzing with reports of shortages of canned vegetables all around the country.  But so far, the mainstream media is being eerily quiet about all of this.  Is there a reason why they aren't saying anything? 
For months, I have been reporting on the extremely bizarre weather patterns that are causing crop failures all over the planet.  But I certainly did not expect that we would already begin to see product shortages on the shelves of major U.S. supermarkets this summer.  What I am about to share with you is shocking, but the truth needs to get out.  For those that share my articles on your own websites, I know that all of the images in this article are going to be an inconvenience, but it is imperative that you include them when you republish this article because they tell a story.  All of the images are taken directly from Facebook, and they prove that we are now facing a nationwide shortage of canned vegetables.
So let's get started.
This first image was posted on Facebook by Scott L. Biddle, and it shows a "product shortage" notice that was posted in the canned vegetable section of a Wal-Mart in Tennessee…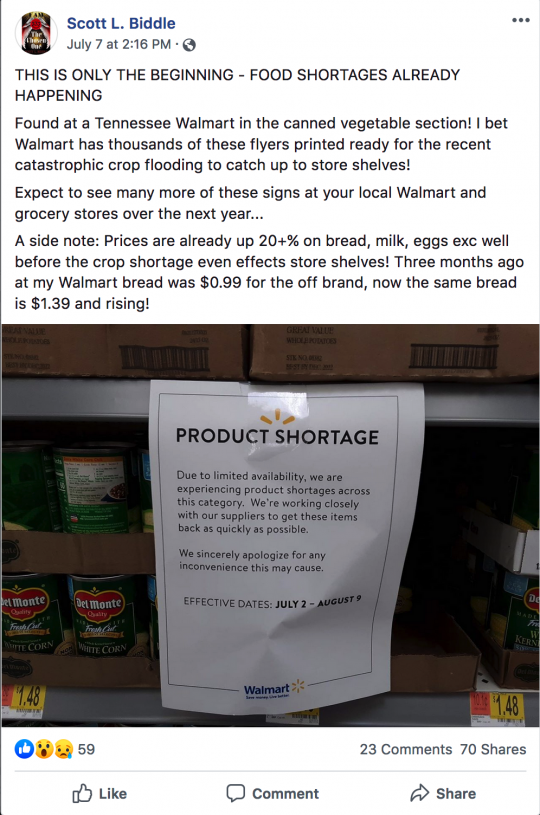 All the way over on the west coast, similar notices were photographed by Gina Helm Taylor in the state of Oregon on July 12th…

And here are a couple of notices that Daniel Moore was able to photograph during his lunch break at his local Wal-Mart…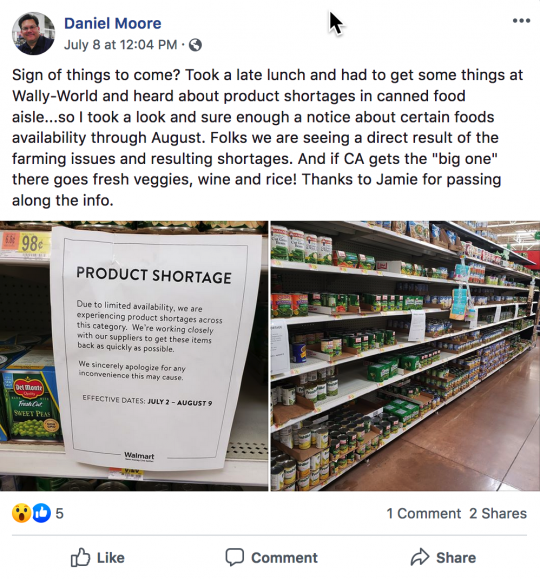 It appears that the exact same notices were sent to Wal-Mart stores all across America.  Here is another one from Carol Guy Hodges…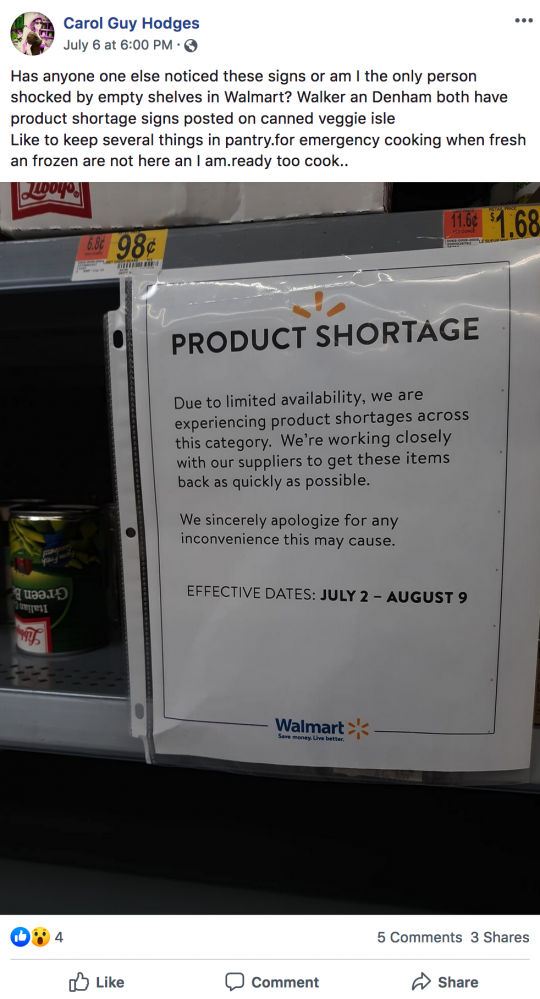 And lastly, here is a photo that was shared by Randy Sevy…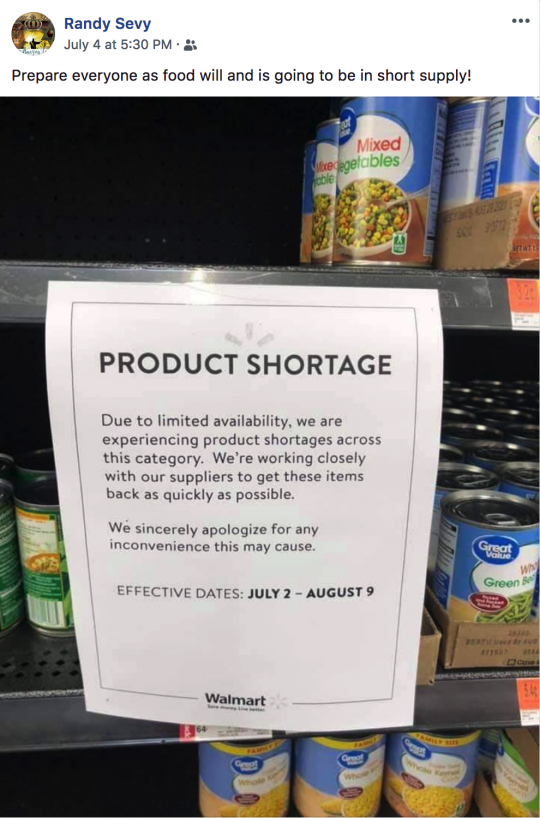 This certainly isn't the end of the world, and we can definitely survive without canned vegetables for a few weeks.
But as crop failures around the globe continue to intensify, will shortages such as this start to become increasingly common?
Earlier today, I received a very detailed email from a reader that had some excellent intel about what was going on at his own local Wal-Mart.  The following is an excerpt from what he sent to me…
This is alarming in and of itself, however, they are experiencing shortages across most product categories. The only information I could find online was pointing to...